Seventh graders transition into new school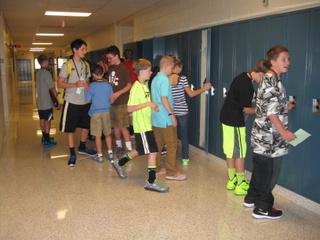 As the new year starts, almost 600 seventh graders are at a new school with different people and teachers. Eight elementary schools filter into the junior in seventh grade. Since they have so many changes, the teachers and the older students try to help the seventh graders adjust to the new school.
Rumors go around about the "big, bad" junior high. This can make the students more anxious than they need to be.
"I heard that there was a lot of homework, this was definitely proven wrong once I got here," seventh grader Gretchen Messner said. "I've only had homework once this week."
This is a transition that many students remember because almost everything is different. Even the clubs, such as chorus, are different.
"There is a lot more to it. You learn more than short, simple songs," Messner said.
The teachers also play a part in helping the students settle into things.
"My teachers are really nice," Messner said. "They helped us through a lot of stuff."
Although there are many changes, they are not all bad. Messner said she enjoys "more freedom" and "lunch," which is a common answer from many seventh graders.
Junior high is the transition in becoming a young adult. Seventh graders are treated differently than in elementary school.
"I'm not treated like a baby anymore," Messner said.
Messner said that the best advice she can give is that it is not as bad as it seems, don't get too worried about it.
"Do your homework and get good grades," ninth grader Kyle Schlecht said.
According to Schlecht, this is life-saving advice for all seventh graders.
Leave a Comment