Nutrition guidelines change school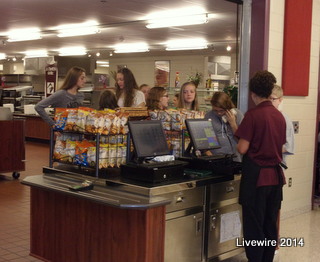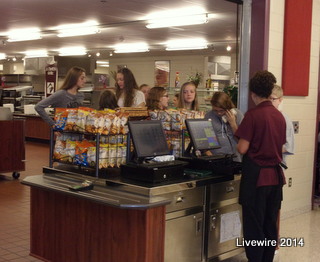 Nutrition guidelines come from state and national regulations in cafeteria, classrooms, school store  and reward programs. This year there is a renewed focus due to an upcoming audit. The Pennsylvania Department of Education will inspect all foods services. Any violations of the standards can cause inability to participate in the free and reduced lunch program and financial penalties.
Principal Jerry Koehle said food guidelines have changed the menus in the cafeteria and all food in the district over the past few years.
"The food service that the school district uses is an independent contractor called 'Metz's Foods', and they know all the national and state outlines that they have to follow as far as food and menus. The manager of the company, Don Redshaw, makes sure the menu is fulfilling everything that it needs to fulfill," Koehle said.
Cafeteria lunches must meet all the calories, fat, saturated fat, trans fat, sodium and sugar nutrient standards. Entree items must be under 350 calories and side dishes under 200 calories. Each meal must include one: fruit, dairy, vegetable or protein. These guidelines from United States Department of Agriculture have no effect on student's who bring bag lunches.
According to USDA, portion sizes are based on age. Each grade seventh, eighth and ninth all have different serving portions. Only ninth grade is permitted to have diet iced tea compared to previous years when all students were allowed to purchase regular ice tea.
"We have all seen a four foot nine boy versus a six foot three boy, and their portion size is the same for both of them. For this reason, I think it does have areas where it could improve," Koehle said.
For fundraising, all foods sold must meet the guidelines. Ten fundraisers are allowed during the year for high school students and five fundraisers for middle school students. Food fundraisers can not be consumed during the school day.
For food as a reward, no food is allowed in the classrooms. Pizza parties at the end of fundraisers are no longer permitted. The school is only permitted to reward students with food five times a year. These times include Harvest Day, Lollipop Days, and Recess Day.
The school store and the Roar Store are not allowed to serve any food to the students because of the guidelines. Due to this change, many of the store items have been eliminated. The future of nutrition in the school is becoming more health oriented.
Leave a Comment