Fast-pitch softball season fast-approaching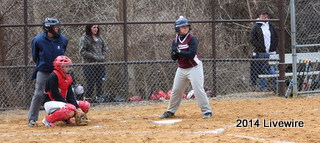 As the 2014-2015 girls softball season is moving closer, Jordyn Merritts and Jocelyn Lynch talk about their last season along with this upcoming season playing for the junior high.
 "I'm very excited for this season," Merritts said. "The season is bonding time for our team, we really become a family during our season. It gets funny sometimes because we are always together and this really shows on the field. by the time the season comes we will all be on the field knowing what each other will do on every play."
 The season is up and coming this spring but practice is in full swing.
"I think starting early helps us get in shape for the real season. Every Tuesday and Thursday we have practice. we usually run a mile at each practice but for one practice a week we work out with weights and extra running. It's hard work , but its always worth it," Lynch said.
 Starting so early is almost unnatural to the girls.
"Starting like this should help us in the long run. I don't think a lot of the other schools have started practicing yet so we should be in a lot better condition than them which we can use to our advantage when its almost the end and we're all tied up," Merritts said. "I think we have all gotten better with our distance throwing, definitely. Our swings are looking pretty good too."
 The girls also agreed that "the hardest thing will definitely be scoring the runs, in the past this hasn't been the easiest things for us to do."
 Almost all of the girls who play for the school team also play for travel teams.
 "For our school league we have some older girls but for travel there's a much smaller age division, everyone has to be the same age. This can be a real game changer especially if the older girls have been playing longer this can help us if they're playing for us. This can really hurt us if they're playing against us," Merritts said.
For some girls this will be there last year on the junior high team.
 "In seventh and eighth grade you're just learning how to play, but in ninth grade they expect you to know and understand how to play. Everything gets more intense in ninth grade, everyone expects more from you, it's a lot of pressure sometimes," Lynch said.
The team has an entire season in front of them.
Their consensus was "We should do pretty well, it all depends if the other teams are practicing as hard as us."
Leave a Comment