Featured teacher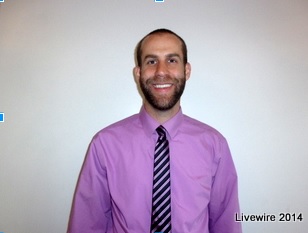 There are many teachers here at the junior high, and let's face it, you don't really get to know teachers that you don't have. This blog is to give one teacher the spotlight every week, so you can get to know the them. Without further ado, this week's spotlight teacher is Ken Krott!
Krott is an Algebra 1 teacher. He teaches seventh grade and has been teaching for seven years. He attended Montclair State University and his first full-time job was here at AAJHS. Other than just teaching, Krott works with the junior varsity drum line and marching band.
Krott says that if he didn't teach math, he would try to get back into the entertainment industry. A little known fact about the awesome Algebra teacher, he also has a black belt in Tae Kwon Do! Krott chuckled as he was asked about the funniest thing that happened in his class.
"I found out one of my students was afraid of E.T., so I brought her up to the board to answer a question, and I projected a picture of him onto the board,"  Krott shared.
There are a lot of great teachers here at the junior high, and I intend to get to know them one by one.
Leave a Comment