Tenth grade scheduling begins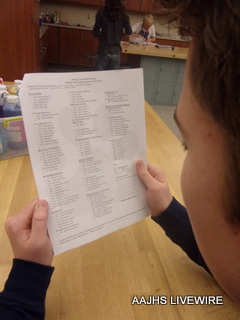 With the second marking period of the school year swiftly coming to an end and the stress of midterms threatening bubble and spill over, ninth grade students are also being asked to start thinking about what their plans are for their tenth grade year.
There are many options to take into consideration when attempting to figure out what classes students want to take next year.  Though the high school only has seven periods compared to the junior high's eight, students will still be given a lot more freedom with their schedule.
"More electives are available for students to choose from each year beginning their freshman year in high school. This is a good thing," Tracey Biesecker, tenth grade counselor at AAHS said.
Though since there are more choices to consider, not all students know what classes to take.
"I recommend anything you're interested in.  Just don't take classes because you think you're going into that field… because a lot of the time you're going to change your mind and end up really regretting it.  So just take things that interest you," Samantha Stevenson, senior at Altoona Area High school said.
Realizing that ninth graders needed to be informed about scheduling also, there was information sent out with second marking period IGRs.  For people who didn't receive the letter due to recent address changes, are relatives to the students who go to the junior high, or are just curious about what the high school has to offer, there are 11 main categories to choose from and then multiple classes for each categories.
CATEGORIES:
English
Social Studies
Mathematics
Science
Physical Education
Health
World Language
Business Education
Music Electives
Art Electives
Family Consumer Science
Though, some classes the upperclassmen have a few favorite classes they recommend taking.
"Astronomy–it's a really awesome class; you get to sit in this dome, and you get to see the night time sky with all the stars and that's pretty awesome because not a lot of schools have that..  Take advanced swim because it counts as gym class, and you also get certified as a lifeguard.  Though, it sucks having your hair wet, but the class is only for one of the marking periods so it's not that bad," Stevenson said.
As there are popular classes, there are also a few teachers that are worth talking about.
"Miss Chesney was a good one..  Mr. Green, he was really boring, but he was the best history teacher I ever had. Also, Miss Quinn, who teaches French, is such a sweetheart," Stevenson said.
Though, there are not just electives to consider, there is also another route they can take.  The CTC (Career and Technology Center), situated beside the high school, has also given great opportunities to tons of ninth graders transitioning to the building across the street.  Though, students who are thinking about the CTC only have until the Dec. 23 to sign up online before the opportunity is gone until scheduling for eleventh grade.
Some students had the opportunity to travel to the CTC a year early for their ninth grade year.  Most of their experiences there has been positive, and they've gained some opinion of what the program stands for and what it is about.
"To be in the CTC, you have to have good attendance, they have to be focused, and they have to be someone who doesn't mess around a lot," Taura Ickes, ninth grade CTC student said.
Just as the high school has a multitude of different classes to choose from, the CTC offers just as many options for students who want to discover more about something they are interested in.
"There are a total of 27 programs to choose from, but our high enrollment programs include Diesel Technology Welding Technology Cosmetology Health Occupations Culinary Arts Automotive Technology Emergency Services and Carpentry/Construction," Nicole Taneyhill, CTC counselor said.
Again, not all students know what to do with all these options and may end up taking a class they thought they'd like, but it ended up not being for them.  Contrary to most belief, sometimes even the most popular CTC classes give students trouble.
"I hear people complaining about culinary arts a lot because there's a lot of drama.  There's also a lot of that in dental, but the teacher is really good at taking care of it," Ickes said.
Though the CTC seems like a great way to gain more knowledge about something they love, some parents and students have reservations about it concerning how many periods they are missing and how little classes that get to take in actual school.  On the flip side of it, some students are on the opposite end of that concern.
"I'm actually doing better because I don't have as many classes; like, I'll only have five periods, and then go over there with nothing," Ickes also adds.
No matter if students choose to be in the CTC or stay in regular classes, some last pieces of advice from the students who have already been through it are:
"Make sure you pick what you really want to do because if you don't it's going to be terrible.  You won't like it and you also won't be able to get out of it because you have to wait the full year until you can change what you want to do.  Unless it's like the first week of it, then they'll let you get out of it, but if it's the second marking period and you want to get out, they won't let you," Ickes said.
Similar advice is given to students who are not going to be enrolled in the CTC.
"I would definitely take some lower classes because you need that break, especially towards the end of the year.  So, you kind of just want to mix your easy classes with your hard classes if you're that type of student who takes all the difficult classes.  Just don't pile it all on or you're going to get super stressed if you have homework in every single class you have," Stevenson said.
Though, probably the most important piece of advice comes from Biesecker because it relates to all ninth graders.
"Before you even meet with your school counselor to schedule your classes, you should already have reviewed the course description booklet thoroughly and have shared this information with your parent/guardian.  Have discussions about your choices with your parents, teachers and counselors – not your best buddies!  Just because your friend is taking a class doesn't mean it is right for you or will even work in your schedule.  Make sure you pick a sufficient number of alternate choice electives.  There is no guarantee that your first choice electives will be available and/or work in your schedule.  Be prepared – if you do not tell us what your first choice electives and alternates are, we will pick for you and they will not be changed.  This is a partnership and we want your input and cooperation but remember scheduling is a complex system.  We want you to be happy. BE PREPARED," Biesecker said.   
 IMPORTANT DATES:
Jan. 21st — meeting at the high school on scheduling
Jan. 29 & 30th — 10th grade counselors talk to the students
Feb. 3rd — Recommendation day
Feb. 9-20th — Scheduling
Leave a Comment