District concerned with potential elementary school overcrowding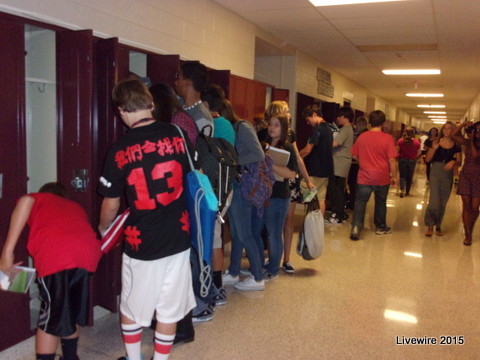 On Jan 20, the School Board is meeting in regards to the three proposals made by Dr. Thomas Otto.
The first proposal states that the AAJHS will be changed to a middle school, AAMS.
 Although no decision by the school board has been made, the administration has had several meetings in regards to possible outcomes. The staff of administration has had meetings prior to the arrival of  the Director of Education, Dr. Betsy Baker, however,  "I was in the last couple of them, I believe," Baker said.
Most of these increasing populations are due to the two elementary schools shutting down, Washington Jefferson and Wright.
"From the numbers I've seen, I think the enrollment has basically leveled out. I think it is stable, but when the two schools closed, it made those a little tighter in the elementary schools. There really isn't space for the population moving up through. For example, you've got two fifth grades going out, and three kindergartens coming in. The empty rooms have been taken up," Baker said.
Measurements have been recorded recently and are available as public information, shown below.
One major point of interest is the situation in regards to lockers in the high school. Many students are talking about the possible outcome of locker sharing.
"They looked at the number of classrooms, they counted the students in the classrooms, and they counted lockers, actually. I understand there is a significant number of lockers left in the high school. There were plenty of lockers," Baker said.
Although Baker did not create the proposal, when asked which of the three plans she felt would be most effective and successful for the future of Altoona Area School District, Baker was hesitant on giving her opinion.
When asked about her opinion in regard to how the board will vote on these options, Baker said,  "Honestly, only the board gets to decide. Whatever way the board goes, I'll support that decision."
Many tenth graders expressed concern about the increased number of students in the building this proposal would bring.
"The high school isn't crowded," Baker said. "If you have the space, you tend to use it. If you walk through the high school during the school day, you will see there are rooms with nobody scheduled to be in there at that point."
Stepping back into the school itself, many students have strong opinions on the matter.
Breanna Richers, a current Sophomore at AAHS said, "There's definitely a lot of room in the high school. It's barely crowded now, but I believe that if the ninth graders come, it'll make a drastic change to how crowded hallways are and make classrooms completely full."
Freshman, Isaac Kormanski is opening his locker in
the AAJHS. Photo by Emily Simmons.
Class size Average Analysis
Grade       Baker       Ebner       Irving       Juniata       J. Gap       Logan    Penn L.     Pl. V.
K                2-27         4-24          2-25        4-22            4-23           4-22          4-25            2-24
1                2-23         4-24          2-23        4-22            4-23           4-19          5-24             3-19
2                2-26         3-25          2-24        4-20            4-21           4-20          4-22            3-22
3                3-21         3-28          2-24        3-24           4-20           4-22          4-23            3-22
4                2-22         3-23          2-23        3-26            4-25           4-25          3-26             3-26
5                2-28       3-27          2-23        3-26            3-30           4-22          3-27             3-25
6                2-31        3-23          2-25        3-21            4-29           4-22          3-31             3-26

School Capacity Analysis
School          Building          School Yr          Increase          School Yr          Increase          School Yr
*                     Capacity            2014/15           (Decrease)       2013/14            (Decrease)      2012/13
                                                                              From 12/13                                  From 12/13
Baker             375                     373                    43                          366                      36                          330
PL                   675                    636                    274                        620                     258                        362
Ebner             675                    588                   139                         559                     110                          449
PV                   575                    469                   (113)                       518                     (64)                        582
Logan            725                     605                  (4)                           646                     37                             609
Juniata         800                     581                  192                          579                     190                          389
JG                   650                     638                  22                            631                     15                             616
Irving             375                     331                   20                           313                      2                               311
W&J               600                    PreSchool                                       PreSchool                                           241
Wright           800                  __ ___0_                                        ____0_                                     __  _326
*                      TOTAL         _____4,221                                    ___4,232                                __4,215
Leave a Comment