School tours held for sixth grade students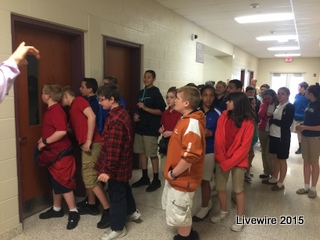 Two different tours were held for the future seventh grade students.
The counselor created tour showed the students around their floor, along with the ground floor.
On the ground floor, the students were taken to the cafeteria to be fed a snack consisting of a cookie and milk. They were also be shown the in-school suspension (ISS) rooms, auditorium, etc. These students  witnessed the chorus and band in action in the presentation being held. The presentation also covered the various sports programs. They were shown multiple skits in the auditorium about the dress code.
On the other tour, which has been held for three years in 2015, the students were shown a full play, The Little Mermaid, by the drama club. They also met different club-leading teachers to be given information on the many clubs that are optional for the AAJHS students.
"Mrs. Starr, the other seventh grade counselor, and I think the more time we expose kids to the school, the easier it is for them when they get to the Junior High, as students. We think it's helpful they get exposed to it for the first time," seventh grade counselor Jamie Connell said.
"It helped a lot because it was a big change for all of us and we were all scared, but after the tour we got used to how it is. They told us how all of our classes are all in our area and we just stayed with our friends," Jessica Watson, seventh grade student at AAJHS said.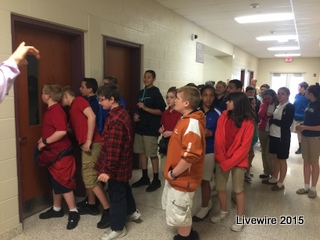 Leave a Comment