Circus performers return to hometown, Altoona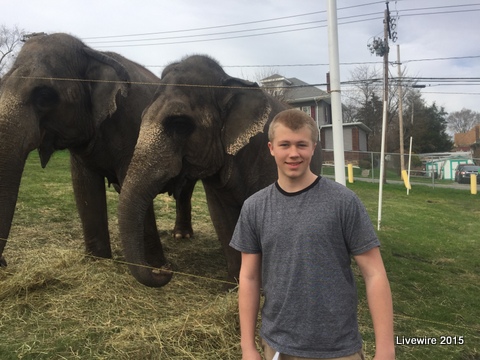 Circus performers come back to hometown, Altoona
The circus was at the Altoona Jaffa Shrine from April 13-19. Chip Arthurs is returning to his hometown of Altoona, PA, with the circus. Arthurs is an elephant trainer.
 Protesters lined up in front of the Jaffa Shrine, complaining about the treatments animals in the circus are getting.
 "The activists out front don't know us. They just accuse us," Arthurs said.
In opposition to the protesters, the animals participating are taught to perform by the reward system, not punishment.
"Anything you want them to do, they've got to want to do," Arthurs said.
"It takes a lot of time to train them. Everything is based on positive rewards. With dogs, it's mostly about food. Treats are the way to go. Treats and just loving them. If they do something good, you have to tell them with a lot of affection," Dallas Rosaire Zoppe, dog trainer said. "Most of the time the protesters are uneducated about what we do and how we do it. I don't have bad feelings towards them, I just hate that they don't know the truth. My family has a zoo and a sanctuary, now, which is all of our retired animals. It's huge now, we have 30 acres. We take in everybody's animals once they're done performing. When these picketers come out here and say I abuse animals, you have no idea who we are. I save animals' lives."
Arthurs has been in the circus for 39 years, after leaving his home in Altoona the age of 15. Arthurs literally ran away with the circus because of his father who had been an alcoholic and Vietnam War veteran. He had been "strict" with Arthurs.
All three of Arthurs' elephants are in their mid-forties. Their names are Viola, Isa and Kelly.
Arthurs travels with his partner Zoppe.
"I am a dog trainer. My family is all animal trainers, like lions, tigers, bears, chimpanzees and horses,"  Zoppe said.
Zoppe was born into her circus career. Her father's side of the family has been performing in the circus for nine generations and her mother's has been for eight generations. She began performing at the age of three.
"My father was an acrobat on big draft horses, and he would put me on his shoulders," Zoppe said.
She has seven dogs at the moment.
"I rescue all of my dogs, so I don't really know what breeds they are,"  Zoppe said.
Arthurs and Zoppe enjoy their job, working with the circus. They enjoy working with their animals.
"The best part is just being around them (elephants), just being able to have them. I've spent the last 39 years of my life doing this. It's really cool," Arthurs said. "They understand the relationships, just like us. If they could talk, that'd be wonderful."
"I love working with my animals," Zoppe said.
Working with the circus means traveling. They are traveling with the circus about seven months out of the year. Arthurs and Zoppe live in a house in Florida during the off season.
"I traveled my whole life, I was born on the road. I was born in Grants Pass, Oregon, but that's not where I live. I've only been back there twice," Zoppe said. 
Arthurs' elephants are transported in a large semi. Dallas' dogs are transported in a trailer.
Many students attended the circus.
"I think it's nice to have this occasionally for the little kids, because there isn't much to do, here," Sami Rossman, AAJHS freshman said.
"It was pretty good this year, they added a few new flairs," Selena Laughlin, eighth grader said. "I feel okay with them (animals). It's not like they're not actually hurting them. I don't really see how it's animal cruelty, they're just doing tricks for fun, to entertain others. I don't see the harm in that."
"I didn't like it as much as I used to, it just kind of got worse. I don't think they should have animals in the circus," Fern Loughridge said.
"I don't think they should use animals anymore. I think they should just be free, and not stuck in the circus. They should be out free, because they are animals and that's what they're for," Taylor Weathersbee, AAJHS freshman said.
"I enjoyed the elephants. I liked how they could stand up and sit down like a human. I don't think animal cruelty is a problem. It is for entertainment," seventh grader Dylan Makarikas said.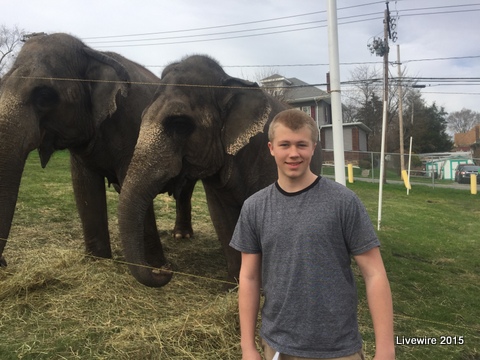 Leave a Comment