Pittsburgh band gaining attention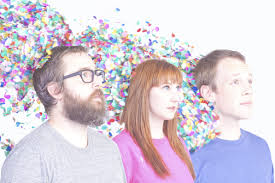 A band that has gotten  some attention is Donora.  Donora is from Pittsburgh, Pennsylvania. The band members are Jack Hanner (Drums), Casey Hanner ( vocalist and lead guitarist  ) and Jake Churton.  the two members Jake H. and Casey are brother and sister.  They started off the band then they found Jake C  (bass).  They found him because of a mix-up.  One of the people that were playing for the two siblings decide not to show so Jake c. helped out.  Later,  Jake joined the band officially. That's how Donora was finalized.  The band got together because of one little screw up and look at them today.
The band recently appear on The Pittsburgh Today  Live news on April 21.  On the band's website they have all the latest news and what is going on in there life. An Earth day festival was one of the events that Donora got the chance to play at as well.(http://www.donoramusic.com/news/)
They band has so many great opportunities and why wouldn't they;  their music is great.  It's new,  fresh and catchy.  It  has great rhythm to it and it's just all around an good band.  The genre of music is rock/indie.  It's a very fun band.  That fact that it's family and friends in a band together having fun and just being themselves is just a cool thing.  They also have a great amount of well written songs and music.   Plus,  the have so many cool experiences to share with each other.  The band also released a new album called " Ha Ha Heart".
Getting to talk to Casey from the band was a a great way to get to know her better. Also it help explain the band and what to look forward to for the band.
Q:  When did you realize that you wanted to work in the music industry?
 A:  My father is a musician, so I grew up around music.  He also had a studio in our house, so music was a constant part of life for me.  I started writing little songs when I was in elementary school and always kept a notebook full of lyrics and song ideas.  Then I learned how to play some chords on the guitar when I was 14.  That's when I really started writing music.  It was always something that I loved to do, so I think I always wanted it to be a part of my life.  I went to college for civil engineering and worked in that field for about a year.  And then I realized that music was my true passion and I wanted to do everything I could to make music work as a career!
Q:  What places have you played so far?
A:  As a band, we've played all over the place.  We've done some touring along the east coast and the midwest.  We've flown out to LA and done some shows out there.  We've also played in Austin, TX at South By Southwest.
 Q:  Are there any big things coming in the future for you guys?
 A:  We are always working on new music, so you can expect another album from us in the future.  We also just did some soundtrack work for an independent film.  That was a lot of fun and we hope to do more of that kind of work!
Q:  Are there any bands that you guys look up to?
 A:  I think any band that is actually making a living writing or playing music deserves respect and admiration.  It's a tough business and it's also changing a lot.  It's a hard thing to navigate, so when you see people doing it successfully, that's very inspiring.
 Q:  What is the meaning behind your latest album " Ha ha heart"?
 A:  Well the phrase "ha ha heart" is used a lot throughout the album, on a few different tracks.  And I think the meaning of it for me is this idea of giving into your heart.  Everything might not work out the way you plan, but if you listen to your heart, the journey becomes a lot more meaningful… and a lot more fun.
Leave a Comment