Devorris raises money for Evergreen Manors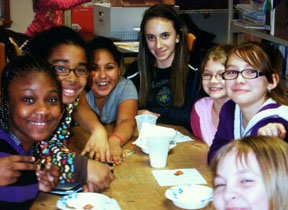 Claudia Devorris (back) sits with the children that she is raising funds for at Evergreen Manors. The children are having their after school snack that the Manors provides for them. The money Devorris has raised goes to provide supplies for the after school program. Photo courtesy of Claudia Devorris
Claudia Devorris, ninth grade student, raised money for children at Evergreen Manors so they could have funding for their after-school program.
The Evergreen Manors is a low-income housing complex. They have an after-school program for younger children. The children get a snack when they arrive and also get help with anything they need.

She has been helping at the Evergreen Manors for two years, and she said she will continue too, probably until she is done with high school.
Devorris said she was working with the Gloria Gates Memorial Foundation.
" They try to help the kids that live there, and try to get their homework done after school," Devorris said.
She found out about the foundation because her brother had worked with them the previous year before she started.
" I wrote letters to my parents' friends and my friends, and asked them if they would donate money," Devorris said.
Devorris estimated that she raised  $8,000 for the Manors.
" They bought toys to play with and some of the money went to pay for another afterschool program at another location," she said.
Also, Devorris had two main influences, " I like helping kids, and wanted to help them because they couldn't get help from their parents," Devorris said.
" I felt accomplished knowing that I could do so much to help the less fortunate," Devorris said, after she spent time at the Evergreen Manors.
While Devorris was cheerleading with Team Altoona, an organization of the National Junior Honors Society who went to teach the kids about teamwork and cooperation, she was presented with gifts from the children from the Evergreen Manors. She was given a necklace with a self-made, clay charm from each child. Devorris was also given thank-you cards from each child.
 " I think more kids should try to help our community because it will make the younger kids want to do better," Devorris added.
Leave a Comment