Maroon basketball team closes season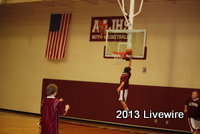 The maroon basketball team is preparing to finish their basketball season on a good note.  They have a very good chance of finishing off the season by winning the inter county championship.  They are currently 13-3 and in first place in their league.
On Feb. 5 they beat State College to help increase their chances of winning the inter-county championship. Now they have to finish off their season against their biggest rival Hollidaysburg at home, against another one of their rivals the Altoona white team and their final game against State College.
Jacob Port said when asked about who his biggest rival was,  "Definitely Hollidaysburg like every year."
"I would say the white team is our biggest rival," Troy Livermore said.
Port's expectations for the year were for his team to have a good season and contend for the inter county championship.  His expectations were completed because his team is in great position to win the inter-county championship if they can win their last three games.
"I expect it to be a much better game and to be a closer outcome than last time," Port said when asked about how he think the final maroon and white game will be.
Livermore and Port have both had huge games to lead their teams to victory.  Against Punxsutawney Port had a total of 18 points to help his team get the big win.  Against Hollidaysburg Livermore had 17 in efforts to beat the rival in their first matchup.
Maroon only has six ninth graders who play on the team this year so they have to call up eighth graders to come play for the ninth grade team.
"Daiquain Watson has played very well for us in getting a lot of minutes off the bench to help our team," Port said.
"Jarod Kutz has been doing a phenomenal job rebounding for us," Livermore said.
After a big win against Hollidaysburg improving their record to 15-3 the maroon will finish up their season against the white team on Feb. 12 at 3:30 in the gym and then State College the next day at the same location.  The game will decide if the maroon team will win the inter-county championship.
Leave a Comment