Clubs begin meeting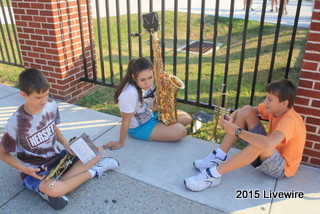 The junior high's clubs have kicked off their activities and are in full swing.  Some students may be interested in joining a club, but don't have enough information to decide if they want to join.  
One club students may not even have known the junior high has is the mock trial club.
"It is fun and exciting," ninth grader Geneva Flarend said. "I like public speaking.I recommend joining if you can speak in front of people and can think on your feet," Flarend said.
Mock trial is lead by ninth grade civics teacher John Blough.  Their activities involve recreating a real trial.  The club meets about every week, depending on school schedules.
Drama club has already performed their first play of the year.  Ninth grade teacher Alyssa Hetrick and ninth grade teacher Kathy Morgan are currently the club advisers.  Drama club member can either be in the plays or participate behind the scenes.
"People make the props and stuff and costumes," ninth grader Emma Stewart said.
Stewart work on the backstage crew in drama's performances.
Several organizations provide opportunities for those students with musical abilities.  Band has been underway since the summer, but it's still not too late to join.  The bands are directed by Kent Martin and Jon Yon. Kelly Detwiler directs the orchestral groups, and Jessica Connell directs the choral groups.
"It's (band) fun if you are interested in instruments," ninth grader Ian Branan said.
Branan has been doing band since fourth grade.
"People who like music and think it's fun would enjoy chorus" said Paige Glasgow about chorus.
"I recommend it because it is fun and awesome"  said Rebecca Kibler about orchestra.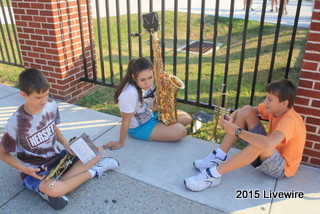 Reading competition team has also begun meeting.  They meet every two weeks, but will start daily meetings closer to competition.  The club is advised by ninth grade teacher Wanda Vanish.  Students meet until November and then head to Bellwood for competition.
"I would recommend it if you like reading and enjoy challenges," ninth grader Nathan Wright said.
Students can also compete in speech competitions.  Sonya DeArmitt advises this club.
"Speech team gives students and opportunity to imporve speaking skills and confidence. They travel to 12 other schools and meet many kids,"  DeArmitt said.
Some clubs like chess club, reading club and anime club do not compete but organize students with like interests.
Chess club meets every Monday with Wes Rogers.
"Chess is fun," Tony Gallace said.
Eighth grader teacher John Garlick has begun his club's meetings.  Anime club meets every other Thursday.
"It's really fun and we get to talk about all the stuff we like and we get to meet new friends" Kiersten Lindeman when asked about Anime club.
Some clubs work to build relationships among students that might not otherwise meet like Circle of Friends and Aevidum. Aevidum is currently sponsoring a school wide contest.  See below for more information.
"We have a lot of fun and meet once a month to plan activities," adviser Kathy Morgan said
Four school clubs work to keep the students informed and to make student created products.  Organizations like yearbook, newspaper, Junior Paw Productions and literary magazine have the opportunity to share what they create with the entire school.
"There is an added level of pressure when you need to create a product that the entire school or in the case of the Livewire site the entire world may see.  Students really need to rise to the occasion,"  newspaper and literary magazine adviser Wanda Vanish said.
Club schedules and information can be found on the school website and also from any club adviser.  Most clubs also announce meetings in the morning.
View Comments (2)