Harvest Day should be for everyone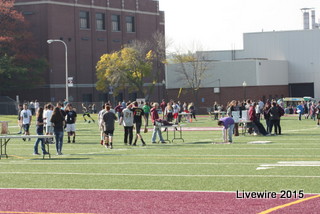 Harvest Day is a day the students get out of school for almost the whole day for selling two magazines.  Every year a fundraising company comes to school and talks about a fundraiser and what prizes a student can get if students sell just two or more magazines.  The prize that a student wins for selling two magazines is a trip to the Harvest Day.  Harvest Day is one day every year when the students get out for almost the whole day.  At Harvest Day students can play games with their favorite teachers and buy candy and just have a good time.  Every student should be able to go to Harvest Day.
 Harvest Day usually lasts from 9:30 a.m. until around 2:00 p.m.  Some people could say that Harvest Day is too long and some people could say that Harvest Day should last all day.  Who really doesn't care?  The students that don't get to go outside and hang out with their friends and play games.  Instead they have to sit inside and do work because they didn't sell two magazines.  The school does Harvest Day to encourage kids to help raise money for the school for things that they need.
Now as for the students that are stuck inside for the whole day, they might think that it's unfair  they have to stay inside while all their friends are out at Harvest Day enjoying themselves.  What if the kids that are inside couldn't afford to buy magazines?  What if they couldn't find anybody that was willing to help them out by buying magazines?  Harvest Day should be all the students going outside to enjoy the day and the school buying materials for the event with the money that students raised for the school.
View Comments (2)