'Toona Times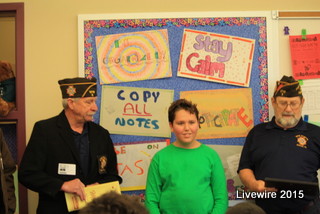 Patriot's Pen Contest
Weekly activity involving the community.
Every year, over 125,000 middle school students enter the VFW's Patriot's Pen youth essay contest. The first-place winner from each state competes for national awards totaling anywhere from $500-$50,000.  The national first-place winner wins $5,000 and an all-expense-paid trip to Washington, D.C., that takes place in March.   For only being a competition for middle students, the award and its prizes are a large accomplishment.
The essay contest encourages youthful minds to take a closer look at America's history, and their own experiences in modern American society. Students write their 300 to 400  word essay based on their views of a chosen Patriotic theme.   This theme is selected by the VFW Commander-in-Chief  This writing achievement is one of the most honorable awards to be received as a young adult.
Seventh grader, Alex Thaler won second place in the Patriot's Pen Essay Contest sponsored by Altoona VFW Post #3.  His essay was one of thirty entries from the state. He received a check for $75.00 and a certificate of achievement from Commander John Gority from VFW Post #3 on Wednesday, Dec. 16.
The Lakemont Park team had a meeting with the students; all the students and teachers gathered in the room to watch and support Alex while he received the award.   VFW Commander-in-Chief John Gority and two other men from the VFW came to give the runner up his prize. As they announced Alex's achievements, his classmates were very proud and his teachers were beaming and clapping. Everyone was very happy for him, and he had a mile-wide smile on his face.  Alex has shown that he is not only a talented writer but also a respected peer.
The prompt, which may seem difficult to some, was to write about what freedom means on a personal level. Alex passionately wrote in his essay that to him freedom is public education and expression.  The winners will now go on to districts and from their states and then nationals. Winning nationals means getting a check for $3,500. After receiving his check and certificate Alex thanked his teacher Angie Baughman for her revisions and effort she pitched in to help him win. Even Baughman won an award in school called voice of democracy. The men from VFW had submitted her into winning teacher of the year which is a national award. 
View Comments (1)