Instrumentalists get festive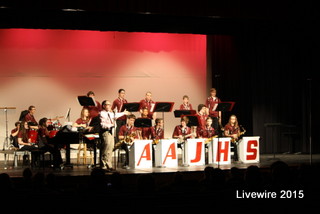 Christmas is in the air along with Christmas music.  This year, the varsity and junior varsity jazz bands brought a twist of jazz to the seasonal songs with their holiday concert on Dec. 8.  Symphonic, chamber and eighth and ninth grade orchestra performed their versions of the holiday songs as well on Dec. 15.  Songs such as "Jazz to the World", "Deck the Halls" and "Jingle Bell Rock" were performed by the JV jazz band; the varsity band stuck with "Winter Wonderland", "The First Noel", "You're a Mean One, Mr. Grinch" and several more.  
"The whole feel of the concert is different compared to the less festive concerts, especially since we are playing at the junior high… These songs are very different compared to our usual music," Matt Furrer, ninth grade varsity jazz band member, said.  
"This concert is less serious but definitely is more cheerful and festive,"  Elise Longo, eighth grade junior varsity band member, said .  "The band basically crammed seven songs into two to three practices per week for six weeks."
Seventh graders also participated in the jazz band concert for the first time.  
"I felt special because it's a smaller group.  I was also uncomfortable being underneath all the lights for the first time. I had a fun time, though, while performing," eighth grader Jacqueline Ertwine said.
The string quartet, chamber orchestra, eighth and ninth grade and symphonic orchestra performed holiday tunes on Dec. 15.  These songs ranged from the religious numbers to popular, upbeat melodies.
More difficult songs were chosen for the string quartet and chamber orchestra.  These groups only include the more advanced players.  In order to be in chamber, students have to try out; ninth grade first and second chairs are in the string quartet.  "Faeries" and "Good King Wenceslas" were just two of the songs played by the orchestras.
EIghth graders played two songs including "Trepak" from The Nutcracker and "Bell Carol Rock".  "Christmas Toys on Parade" and "Carol of the Bells/Greensleeves" were played by the ninth grade Orchestra.  Grade level sections are available to all, even if a student has never played before.
Symphonic orchestra also joined the the strings in their holiday concert.  This section of the orchestra is made up of all string groups and includes some band instruments.
"I loved the pieces we played for the concert because some created a challenge for me," Kaleb Deterline, ninth grader who is in chamber orchestra and string quartet, said.  "The only thing I didn't really enjoy was practicing as much."
Deterline had to stay after school for two hours in order to prepare for the concert.
"I enjoyed playing these new songs, especially since they are more well-known," eighth grader, Brett Thaler said.  "The concert went well."
The jazz bands and orchestras finished the holiday concerts and are now starting to enter their down seasons.  
Leave a Comment