Players hear "swish" as season begins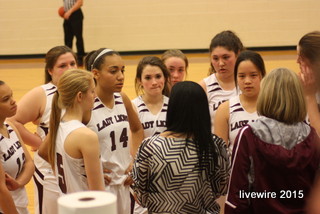 The Altoona girls' ninth grade basketball season is off to the race. They started off their season with practice everyday after school and being undefeated so far 6-0. The girls dribbled right into the season and are ready to take on the heat.
"Yes, I do think we can be undefeated the whole season, because we are hard workers, and when we put our mind to something we can achieve it," Bridgid Fox said.
The Altoona team says they work hard to do the very best they can and work hard every second and every minute they can. Getting into the season the girls are very excited to get ready and play the game they love.
"I'm excited to have fun with our team and for the lively student sections at our games," Lauryn Corle said.
At the girls' basketball games many students from seventh to ninth grade come to the game to help support the team. Many fan cheers along with the parents and siblings watching the game.
Over the years the girls also played basketball in and out of school. They love the sport in or out of school.
Olivia Hudson said, "I like the fast past motion that's involved and my family played it so, I want to pursue the family tradition and play."
For the season the girls are not perfect; they need to work on some things. There is a lot of dribbling, shooting, defense and different aspects of the game. They also say learning the plays is hard to comprehend too.
"We need to work on team bonding and communication skills to work together," Corle said.
"I feel we need to work on teamwork, working together, and communication in a postitive way," Kaite Cumming said adding onto Corle.
The girls set many goals for the season to do their best at what they do, play basketball. They all said they have played for many years and still need to work on many things and to achieve many goals. The goals they set for this season would be their goal throughout their basketball career.
Fox said, "My goal is to be undefeated and to grow stronger for myself and to go stronger as a team."
They also have to motivate their teammates to do their best at all times and to be positive.
"I encourage them to do their best always and have a positive attitude on and off the court," Corle said.
The girls on the team have their strengths and their weaknesses for themselves and for the team all together.
"My strengths are finishing and being a good leader, and my weaknesses are running and shooting, but I am getting better," Fox said.
The team all says they need to work on shooting and supporting each other better. The game of basketball is very fast paced.
"It is fun to watch the girls hussle and to watch them score a lot," Christy Heck said.
There is a lot of moving, running, getting on the floor for a ball and just hustling all together. The girls on the basketball game show they all have potential in playing the game. In all of this they have fun playing.
"Enjoy and love this game," Corle said.
View Comments (2)