Drama club picks spring musical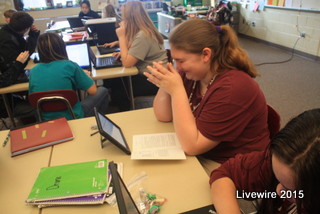 School picks Spring musical
The school's drama club finally picked a spring musical and drum roll please… Disney's Mulan won! Alyssa Hetrick was happy to announce that Mulan was this year's musical,
 "We love the music, it was a good opportunity to get a lot of different students involved, so we're excited for it," Hetrick said.
 Students like Lindsey Whysong are very excited for the play as well as Hetrick and Sarah Janser. Whysong was happy to try out for Mulan.
 "Mulan is my favorite Disney princess!" Whysong said.
 Hetrick was thrilled about the music that's in the play, the dancers and the number of kids that want to be in the play.
 "There are so many talented people auditioning!" Hetrick said.
 Hetrick also said that she was happy to get more teachers involved with the play this year.  Janser will be choreographing the dances this year for the play.
 Last year's spring play did so well that Hetrick would be happy if this year's play was just as good, she added there were so many talented kids last spring involved with the play!
 "I'd be happy if it stayed the same," Hetrick said.
 Try outs happened on Dec. 15 and 16; callbacks were held Thursday Dec. 17. This years play will be held Friday May 6 and Saturday May 7 with a special parent preview on May 4 of next year. Come out and support fellow classmates as they put on another spectacular spring musical!
Leave a Comment