Museday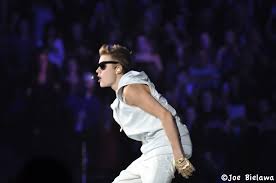 Justin Bieber makes a comeback
Music is the greatest thing since… Gwen Stefani and Blake Shelton
Just like Adele, Justin Bieber is on the rise, holding several places in the top ten songs.  These include "Sorry", "Love Yourself" and "What Do You Mean?". His new album, Purpose, was released on Nov. 13 and has sold 1.167 million copies.  Purpose has became the third-best seller, just behind Adele's 25 and Taylor Swift's 1989.
Since 2009,  Justin has stolen the hearts of many girls worldwide but now even grown men enjoy listening to him.  The pop singer has over 50 million followers on social media, and that amount is still growing daily.  Purpose, according to Rolling Stone, is one of the "Top 20 Hottest Tours" in 2016.  The magazine also called Justin a "pop phenomenon".  The album has even broken Spotify's single-season streaming record.
If you're not a huge fan of Justin Bieber but still like his songs, there are definitely some great covers out on the internet. Artists such as The Vamps, Tori Kelly and Alessia Cara have covered some of his top hits.  
Other than the summer single "Where Are You Now?", Justin Bieber has had somewhat of a low profile.  His last biggest song was a few years ago, but now he is the biggest thing since sliced bread.
Whether you're streaming on Spotify or listening to iTunes, definitely add Purpose to your playlist.
<div class="storify"><iframe src="//storify.com/Spock_Cox28/justin/embed?border=false" width="100%" height="750″ frameborder="no" allowtransparency="true"></iframe><script src="//storify.com/Spock_Cox28/justin.js?border=false"></script><noscript>[<a href="//storify.com/Spock_Cox28/justin" target="_blank">View the story "Justin on the rise.. again" on Storify</a>]</noscript></div>
http://www.rollingstone.com/music/lists/2016s-20-hottest-tours-20160105/justin-bieber-20160105
Leave a Comment