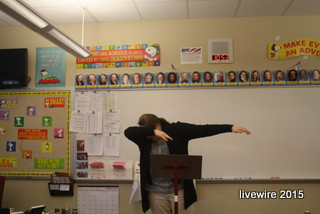 Picasa
Mackenzie Wilt is one of the civics teaches on ninth grade floor that is known by many students as the best teacher yet. This is her first year teaching a real class.
"All of my classes are great, I teach levels two and three, and they are all very respectful. I was blessed for my first year of teaching, " Wilt said.
Shes plays music at the beginning of class for every class to get them in a good starting mood for the class. She also loves to do group activities and to interact with all students.
"I love investing into young life," Wilt said.
Students hear all around school she is a great teacher, and she knows what she is doing. She loves putting a little more into teaching by playing games and doing activities to do in class. Wilt also manages her time to  coach basketball and volleyball after school. Wilt is a very upbeat teacher.
"Mrs. Wilt knows how to make learning fun; we always are excited for the day with her class because of her. We do not sit at our desk all day doing worksheets or notes; we actually get to interact with people by doing activities for lessons we are learning. I think we all understand more with her teaching," Giana Arthur said.
She has a great teaching strategies.
"Mrs. Wilt does a lot of stuff that interacts with classmates," Baylie Horten.
Wilt loves her teaching experience and loves everything that comes along with it. She knows that there will be bumps in the road, but she will get to experience them and get through them. He room is all decorated with small and happy quotes for all students to read. Give a positive attitude to all the other staff members and to everyone in her classes and in the hallways as you are walking by.