Superstar Student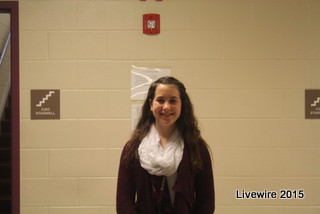 This week's star student
With the schools jumping right into the new year, students struggle to get back into the school schedule. Eighth grader Camryn Hoff is readjusting to the new year like it's nothing, which is why she's this week's star student.
Many students are tired, lazy and grumpy as teachers start handing out homework and tests right when students come back, but Hoff is all smiles.
"It's pretty cool that I am star student right after I come back. It really makes me feel good and proud in a way," Hoff said.
Seeing Hoff around the floors, she always has a smile and helps others peoples day be a good one. Managing her 4-5 hours of dance after school and all of her school work would be a tough challenge for anyone.
"Yeah it's very hard, but my brother will help me sometimes when I get home late so I don't fall asleep. I also work on it at dance when I have free time so I can get some done," Hoff said.
In school Hoff has a lot of friends and talks to everyone she sees. She always puts in a good laugh to any conversation and makes her classes more lively.
"Camryn is pretty awesome and a good friend to stick with. She is loud and funny and extremely weird, but we all are so it's okay. She always helps us in the class if we are stuck or something which she usually does for me," classmate Ashlyn Irwin said.
If you see Camryn walk by in the halls or anywhere you give her a good job on being this week's star student! As always check in next week to see who the next star student will be.
Leave a Comment