'Toona Times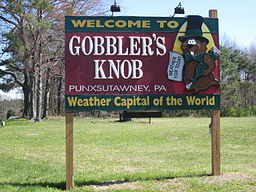 Early Spring thanks to Punxsutawney Phil
Recent events happening in the Altoona community
Early in the morning on Feb. 2, 2016, a crowd gathered at Gobbler's Knob in Punxsutawney, PA. The crowd stood awaiting Punxsutawney Phil, the groundhog famous for predicting how long the winter would last. If Phil sees his shadow when he emerges from the burrow, six more weeks of winter would occur. If there was no shadow to appear behind the groundhog, an early spring would come.This year, as Phil crawled out of his burrow there was no shadow to be cast, calling for an early spring!
Although this winter was extremely short, waiting for the snow is too tiring. If there is not going to be any snowfall, the weather might as well warm up!
Although since 1988, Phil was right about the weather patterns 13 times and wrong 15.
But even though the groundhog's predictions aren't always reliable, citizens needed some hope to get them out of this cold-winter-gloom.
Leave a Comment