Seventh graders form STEAM team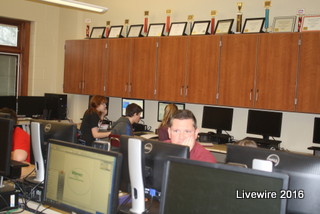 A new club called the STEAM team is revolving around twenty seventh grade students.
"The class is taught by Mr. Dzurko with me assisting him," Lori Piper said.
The STEAM team stands for science, technology, engineering, art and mathematics.
"The students were picked for the team based on interest level and application," Piper said.
The students on the team are required to have good grades, be productive members of the team at all times and to be free of any disciplinary actions.  The club will explore graphic design video production and animation.
"I like being in STEAM because it's a nice, fun, escape from the school day, " Graham Black said.
The STEAM team will also work with 3D printing engineering robots and manufacturing with woodworking and CNC machines. The club is working on being entered in regional and state competitions.
"There are two different competitions coming up in March," Piper said.
The first competition is a computer competition. All of the students on the STEAM team submitted an original logo to the competition. The students had the option to submit a second product of their choosing.
"I'm working on my logo; it's for a pet store," Black said.
The second competition is K'Nex and requires the team to make a structure that can hold weight and that is environmentally friendly.
Elementary schools from the Altoona Area School district are also participating in STEAM.
View Comments (1)