Museday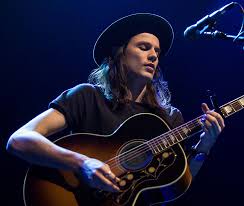 Music is the greatest thing since…
James Bay
Music is the greatest thing since H&M opening.  This week's greatest artist is James Bay.  Not many people know him; only two of his songs have been played on the radio.  Bay's first song to be played was "Hold Back the River", and it made an appearance on MTV's popular TV show Finding Carter.  Although he has dropped albums before, Chaos and the Calm was James's first full album.  The older albums were all combined into this one released in 2015.
On the radio now is "Let It Go", moving from #50 to #38 on Billboard's Top 100 this week.  The song stresses that those who know they shouldn't be together should let everything go.  Also, after they "let it go," both people should be themselves instead of what this relationship made them.  "Let It Go" is amongst one of my top sad songs that gives me a boost when I am feeling down.
"Hold Back the River" is another go-to.  The lyrics may sound sad, but they are truly uplifting when you're feeling blue.  Even when they want to cry, the song is telling the listener to hold it all back and that everything will be okay.  James Bay makes the listener feel that he is there even when they feel like crying and makes them feel comfortable.
The album isn't full of melancholy songs that make listeners want to  cry.  They may have a sad feel at first, but when looked into deeper, the lyrics are comforting and sets the mood that things may not be okay right now, but they will be.  "Best Fake Smile" is the one song on the album that makes an obvious impression that whoever is listening doesn't have to live up to everybody's expectations.  "Scars" says that live people through tough times, but after things calm, they can look back on it.
The album is expressively the chaos and the calm of life.
Leave a Comment