Passion for Fashion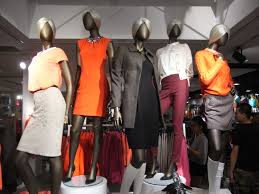 Latest fashion from around the world.
H&M's Grand Opening At the Logan Valley Mall
Finally the Logan Valley Mall is getting some really good stores! On March 16 H&M opened up in the Logan Valley Mall and has been a big hit.  
Personally H&M is one of my favorite stores, I was so excited when I saw the billboard that said H&M coming soon!  I not only love H&M for it's super cute clothes, but the prices are just as awesome as their clothes.  This simple black top at H&M is only $12.99. Rival store American Eagle has a black top almost identical to the one at H&M but this black T-shirt is $22.46 on sale! The original price was $29.95, almost $30 for a simple black shirt that you could get pretty much anywhere.   
Another thing I love about H&M is they have something for everyone to wear, business to bohemian they have it all.  They also sell children's clothing as well as men's and women's at a great price.  This girl's top at justice is $17.49 while this children's top at H&M is only $5.99.  
H&M is a European company started in Sweden in 1947.  The first store opened in Norway in 1964.  H&M started their expansion outside of Europe and into the U.S. in 2000 opening its first store in New York City.  Now the U.S. has over 400 stores, and soon there will be more with the expansion of H&M coming to smaller cities like Altoona.  
I had a chance to visit H&M on its opening weekend, and I got some really nice things all under $75 dollars.  The only thing I had an issue with was that a lot of things were gone and out of place, I'm guessing it's because so many people went the opening night.  I also think they are switching out their winter clothes with their spring clothes, that also might have been part of the problem with the clothing. I also saw that they had some swim suits upfront; it was just very unorganized.  Other than that I was very pleased with the quality of the clothes and I will definitely be going back for more.  I hope you get a chance to go and check out H&M at the Logan Valley Mall!
Leave a Comment