National junior honor society benefits students
More stories from Lydia Newman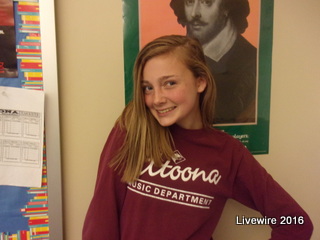 National Junior Honor Society (NJHS) is a group within the school that affects students in many ways.
To be accepted into this program students must have a GPA of ninety-three percent or above, at least twenty hours of community service and a committee evaluation. If a student fails to fulfill these responsibilities, teachers will warn the member or in some cases, remove him/her.
Students benefit in many ways from being in NJHS.
"It drives them to be more involved," NJHS adviser John Wharton said.
Students also see advantages from the program.
"It looks really good on college applications," ninth grade member Emily Perry said.
Students become more involved in the community through their service. Working at places like the food bank and animal shelter provides students with hours and helps others.
However, students in NJHS find challenges in being a part of the group. It takes up a lot of time and poses some stress upon them.
"We find that members of National Junior Honor Society are extremely involved students and balancing their time is a big issue," Wharton said
Teachers in charge of the group reward students in return. At the end of each year, members take a trip to Hershey Park.
National Junior Honor Society is highly recommended to students.
"I would obviously encourage students to join, look at it as a way to help their community that will follow them for the rest of their life," Wharton said.
"Definitely do it. It doesn't take too much time and looks good in the future," Perry said.
Leave a Comment
About the Writer
Lydia Newman, Writer
Lydia Newman is a freshman at Altoona Area Junior High School. Along with Livewire, she is in reading competition and is a sound and light technician for...