Local restaurant serves dreamy dishes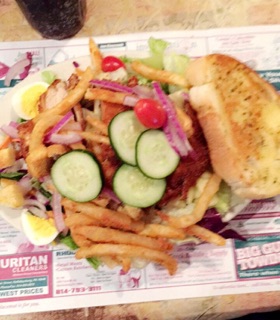 The Dream restaurant was established in Hollidaysburg, PA in the early 1950's, and seems to be as popular today as the day it first opened.
The Dream has a rustic and country looking atmosphere that compliments the old fashioned comfort food served there. The restaurant is set up into sections. Each section is  decorated differently; one of the rooms is a hand painted mural on all four of the walls. In another room, they have old farm equipment and old vintage tin advertising signs hanging on the wall.
The Dream has a variety of different food choices from Italian to mom's home cooking including:  a kids menu, gluten free options (upon request) and light and healthy food choices. If you dare to break your diet there is nothing like one of their homemade cream puffs for only $2.75 or three for $8.
It is practically impossible to go home hungry because the portion sizes of each meal are exceedingly generous. Given the size of a meal the price seems small in comparison. For example the chicken garden salad contains a huge bed of greens accompanied by an entire sliced, grilled chicken breast, tomatoes, sliced hard boiled egg, croutons, onions, a mountain french fries, generous slices of provolone cheese, a piece of homemade garlic toast and your choice of dressing. All of this for only $10.89.
The Dream's wait staff is exceptionally friendly, courteous and efficient. Anything the customer needs is quickly retrieved and brought back to the table with a smile.
The Dream's restaurant popularity will continue on for years to come because of their varied menu, lovely atmosphere and large portions.