Editorial: Drama club deserves kudos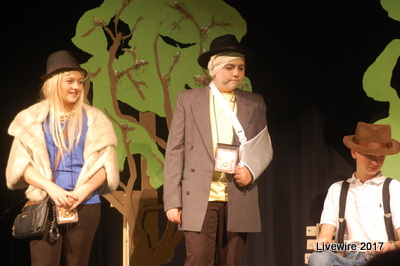 The drama club took a lot of time and hard work in performing the first play of the year called Law and Order … The Fairytale Unit.
Their time and effort really paid off. Little kids loved it and showed it by even dressing up as fairy tale creatures.
The cast and crew started practicing in September, which gave them about a month to learn everything they would need to know for the performance. They did a lot of practicing lines which helped later. They took one to two hours a day. It takes about two to three weeks to get to showtime, which means a lot of effort for everyone. They have to learn a lot of information in a short period of time which makes it difficult for some people, but they pulled it off and made it a very successful play.
This play was different from others because there were so many roles. It made so many more people able to participate. They were also fairy tale creatures, which made the cast all able to be as creative as they wanted.
The cast did a lot of team building warm-ups. This encourages them to all work together and make improv scenes. It really helps them become comfortable with each other.
Some people may say that a bigger cast would make it harder to rehearse and people would get fewer lines, but in reality it helps the cast and crew make more friends and work together. It helps them all act like a team, and build confidence in each other and themselves. It is easier for them to perform and feel comfortable when it comes to the showtimes.
The cast and crew did a really great job in making this such a successful play. If you didn't get to see it, the musical, Mary Poppins Jr, is coming up!