Get scrooged this Christmas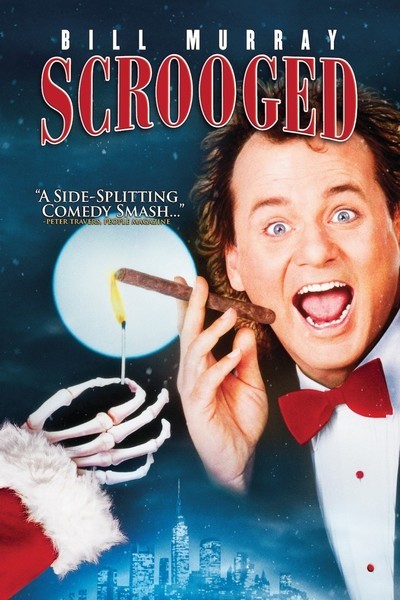 This Christmas it's always nice to stay home and watch a nice holiday movie. Scrooged is a holiday comedy movie and has some strong language which makes the rating of this movie PG-13. This movie would be great to watch with friends and family as long as they don't mind some mild swearing in some points of the movie.
The modern comedy twist on the book is perfect. The movie follows a miserable TV executive who is greedy and is unconnected to the viewers and does not understand what the people want. If familiar with the Charles Dicken's classic book, A Christmas Carol, you will get the basic gist of the movie's plot. Special effects are very 80's.  As the movie progressives you see how Frank Cross (Murray's character) got to be this grumpy old man. The acting was a little sloppy from some of the supporting cast, but overall Murray's performance was excellent.
This movie consists of four ghosts to show Frank to change his selfish ways. The first ghost is Frank's old boss who was a grump like Frank and warns him of the other ghosts visiting him. The second ghost is the ghost of Christmas past that shows Frank how nice things were back then. The third ghost is the ghost of Christmas present and shows him where his close friends and family are and how they are miserable with Frank. The fourth and final ghost is the ghost of Christmas future that shows him how his actions now will affect the people that he knows. The ghosts are the best part of this movie.
The movie is basically A Christmas Carol but in a comedy style. This film stars giants like Bill Murray, Carol Kane and many more. This  is one of the best Bill Murray movies. It was just a great time and you really feel for Murray's character and how he was so mean in the beginning. This movie is the movie to people who want to have a fun time with friends. I would also recommend the movie to anyone who wants to watch a movie with your family and you just want to have a few laughs and have a fun time.