Freshman plunge underwater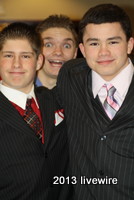 Executive Committee prepares for aquatic-themed final dance
Throughout the school, the Executive Committee has contributed to and distributed multiple fundraisers and special events for all grades and ages, teacher and students alike, from candy to briefings.
The most recent display of such a committee's power was shown through the vote, purchase and announcement of the upcoming ninth grade social. Out of the choices "Candy Shop, Fairy Tale, Red Carpet and Atlantis," the latter was chosen to be most popular.
"The basic kit for this one cost about $650. Plus, we ordered extra fish and lights to go along with the theme," Lisa Plummer said
For the past two weeks multiple ninth graders have begun the hunt for a date among the 567 freshman in the school.
"It's our school dance, and I want to go and have fun. It actually gives [students] something to do at the end of the year and meet with friends and some teachers," Sarah Donley said.
"You're only in ninth grade once and [the social] is a great experience to have. It's a great social experience; it's the last big thing to put yourself out there before the end of the year. If I failed ninth grade, I would do it all again. But, if you hated it the first time, don't put yourself through anything the second. (But (for the seventh and eighth graders), don't put too much thought into it. You might " Allysha Capps said.
The dance will be May 24, from 7:00-9:30 PM. For further information see Plummer, Rm. 247 or Becky Heisler, in the main office.
Each of the committee students has been chosen from the influential and/or academic students within the freshman population. They are informed early in the year, so students must make themselves presentable as such by then to be accepted. If desired to be in the committee, students may talk to their current and teachers and teachers in the next or next after year.
"I like it better than a 'Class President, Vice President, Treasurer,' because it's not just three people in charge of the entire class. It's a handful of students and you get a broader opinion, not just certain people; with that it's usually just whoever's popular, rather than who's good in school and the teachers like them. So you get everyone together. It just works out better," Allysha Capps said.
Special thanks goes out to the current members participating in decoration of the gymnasium.
Leave a Comment