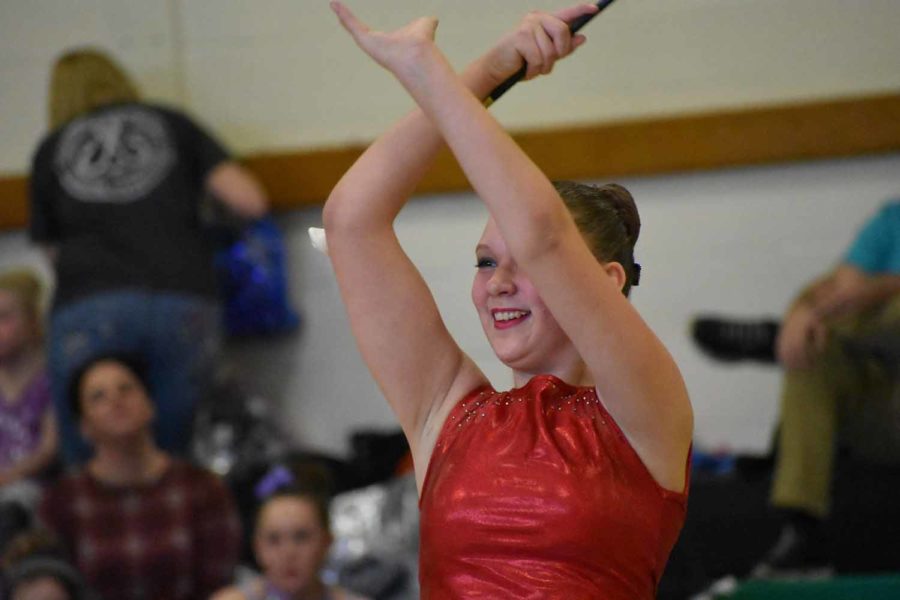 R MONTGOMERY
On Feb. 17, the indoor silks and majorettes traveled to Portage, PA to compete in a TU competition.
Indoor majorettes
The indoor majorettes won first in the "Junior High Majorette" category.
Indoor adviser Samantha Cessna brought the girls to the competition and was eager to win.
"Going in I was fairly confident. I know the routines were still a little new, but Altoona has a long standing tradition for indoor being successful, so I wasn't shocked by the first place," Cessna said.
The theme for the 2019 school year was "The Greatest Showman," using three songs from "The Greatest Showman: Reimagined" soundtrack. The songs included: "This Is Me," by Keala Settle, Kesha, and Missy Elliot, "Come Alive," by Years & Years and Jess Glynne, and "The Greatest Show," by Panic! at the Disco.
Eighth grader Danielle Bardelang has been in indoor for her second year now.
"I was excited before I went on because I love performing. My favorite part about indoor is that I get to twirl outside of a regular organization. Practicing really helped us for the first competition," Bardelang said.
Seventh grader Jaidyn Paladini is in her first year of indoor.
"Before I got on to perform I took a breath and believed in myself because I knew that I could do it, and I knew that I had my teammates to count on," Paladini said.
Ninth grader Isabella Nardelli started her first year this year and is glad that she did.
"I enjoy twirling with my friends at practice. I was nervous at our first competition, but practicing helped me remember the routine. I enjoy practicing with my friends," Nardelli said.
There are five members of the indoor and they consider each other family. The girls jumped for joy as they heard "first place goes to the Altoona Area Junior High Majorettes."
Indoor silks
The indoor silks won first in the "Small Junior Color Guard" category.
Ninth grader Ashley Smith is in her third year of indoor. She is the captain of the marching band silks and enjoys competing and doing what she loves doing.
"The indoor silks were undefeated last year, so I kind of expected us to win. I was super excited to compete at the first competition," Smith said.
Eighth grader Rachel Lucas enjoys her solo with the machete knives.
"Practicing helped for the first competition. It helped us remember the routine and helped us not have drops," Lucas said.
On the bus ride home from the competition, the silks did their chant in excitement of their win!
"I expect the silks and majorettes to work as hard as they possibly can. Again, there is that long standing tradition of Altoona indoor for being successful, so there is some pressure to do well because everyone expects it of Altoona. But I am okay if we don't get first every time as long as we do our personal best," Cessna said.