Just Be Yourself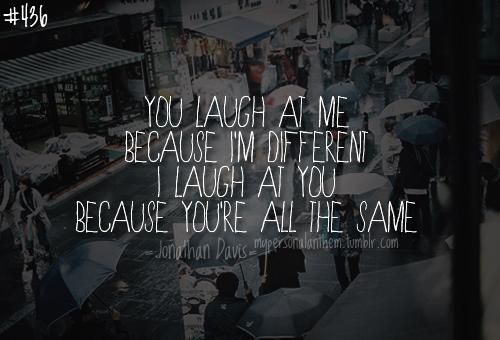 According to http://www.bullyingstatistics.org/, in 2010 there were about 2.7 million students bullied. Bullying also accounts up for to 44 percent of child deaths.
Bullying is one of the main reasons that students don't open up and be themselves or try to make new friends. Everyday over 160,000 students skip school due to be bullying because of who they are. Even when students skip school, the internet makes it impossible to fully escape bullying. In the world today it is almost impossible for students to be themselves. People are constantly bullied because of the way they dress, sexual orientation, ethnicity, religious beliefs and physical features. This makes it unbelievably difficult for students to break away from the crowd and have their own voice.
One of the best ways to "blossom" is to get involved; it doesn't have to be extracurricular. It could be any sort of hobby, such as skateboarding or starting a band. Some place that puts you in a good environment where you're not judged by your peers. The main key is to always follow your heart because it won't matter how you dressed or who you hung out with in 10 years so it is important to express yourself and be who you want to be. As a student, you just have to enjoy the time you have now to mature into a young adult..
When many students have trouble with their real life, many turn to music. Music allows you to go to another place in your mind. Many times music can teach life lessons. One of my personal favorite songs to listen to is "All I Want" by A Day To Remember. This song is about dealing with bullying. My favorite quotes from this song are "Keeps your hopes up high and your head down low" and "Will you even look back when you think of me?" This song has inspired many to open up as a person and stop regretting what they are. All I know is that bullying is a huge problem, but you can't just hide inside due to it.
I believe that if you be yourself and you don't listen to what they say, you will be the stronger person and you will prosper as a young adult. As a person you have a right to have your own voice no matter your sexuality, race, racial belief, or anything that would make someone think you're less than what they are. Never give up on yourself because when you do there is no where to go but down.
Leave a Comment