Music department supports Barnes and Noble event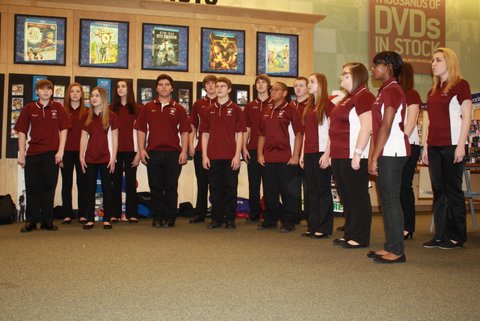 Let the student body get into that Christmas spirit! Recently on Dec. 7th, the schools music department members, which included the vocal ensemble, string quartet and the chamber orchestra, all put on a performance at the local Barnes and Nobles.
The Barnes and Noble performance has become a yearly tradition. There were many parents and family members who came to see their children perform; there were even some customers who watched as well. Everyone who watched seemed to be having a great time and enjoyed every bit of music the music department had to share.
The vocal ensemble performed first that night, and sang some popular songs from today. But that's not all they sang, they also sang a few Christmas classics that the whole crowd seemed to enjoy. Each singer seemed to sing with great confidence, despite the new location of their performance. Also, towards the end of their performance they let the audience take part in the singing of their Christmas Classics.
 Another group of people that performed At Barnes and Nobles on Saturday the seventh, was the ninth grade string quartet. Along with the string quartet, the eighth and ninth grade chamber orchestra performed as well. The String Quartet was the first to perform out of the two orchestra groups. They performed many songs that included, "We Wish You  A Merry Christmas",  "Hark! The Harold Angels Sing", " Jingle Bells", "Deck The Halls", and last but not least, "The First Noel". After the String Quartet, the Chamber Orchestra performed. They played a selection of Christmas songs which included, "Celebration", "Jingle Bell Hoedown" and "A Gleeful Christmas".
"It was very exciting. An opportunity to work with students in a public setting is new for me, so that was very exciting. And playing for parents, playing for public, and having the opportunity to share music with others…for me that's what it's about," Joshua Crooke, a student teacher from Penn State University, said.
Along with the excitement of playing, comes being nervous. Being nervous can be both a good thing, and a bad thing. Lily Smith and Sarah Schmitt, two members of Chamber and String Quartet, admitted to being a bit nervous for the performance. Along with them, Crooke stated that he was a little nervous as well.
 " I always get nervous before playing and I was very nervous tonight because some of the music is difficult," Smith said.
A cello player for both the string quartet and the chamber orchestra, Schmitt, also mentioned being nervous for that night's performance. But both of the musicians did not let their nerves get the best of them.
" I think the performance  went very well considering we're here," Schmitt said.
She's not the only person who thought the performance went well, Kelly Detwiler, the school's orchestra teacher and Crooke also thought the performance went exceptionally well . It was a performance that seemed to enjoyed by all who witnessed it.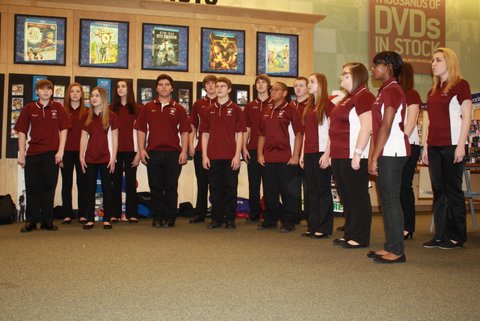 Leave a Comment