Tickets on sale now for Empty Bowls Event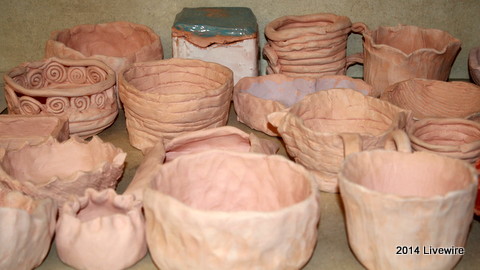 Empty bowls project is a project to feed the hungry. This school will host its own event April 24.
"The empty bowls project is an international grassroots effort to end hunger. Each community or organization creates an event that makes it unique and selects a food organization to donate to. Here at AAJHS, we have created ceramic bowls that will be included in the cost of a ticket, hold a silent auction, and sell packaged soup to-go and various homemade items. All proceeds of the event are donated to the mountain lion backpack program," Shuck said.
The project allows students to go to C239 after school to make bowls out of clay. The room can be found by the E stairwell on the ninth grade floor. The bowls are then taken to a soup kitchen and used to feed hungry people. Students in the intro to 3D design class also made clay bowls for the project for a grade in the class.
"Students in introduction to 3D design, student volunteers, adult volunteers from the mountain lion backpack committee," Shuck said.
Tickets for the project are sold at Thompsons Pharmacy, Shucks' room, C239, the main office or in room 338. Tickets only cost$10. Students also have a chance to work the day of the project.
"Mrs. O'Roark and myself, adult volunteers from Mt. Lion backpack committee, and student volunteers. Also the cafeteria staff warming and distributing soup and the custodians setting up tables," Shuck said.
There is a sign up sheet outside of the same room that the tickets can be bought. The event will last from 4p.m to 6p.m. in the school cafeteria. Some students think the project is a good idea.
"It benefits the hungry children because they get to have food," Delaney Belardi said.
Not everyone has heard about the empty bowls project.
"I never heard of the project until my intro to 3D design class," Belardi said.
Leave a Comment