Manny Scott inspires hundreds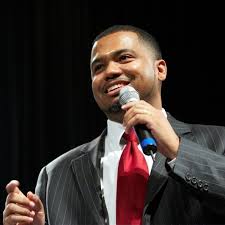 On April 3, Manny Scott traveled to the Altoona Area High School to talk about Freedom Writers, which is a movie based off of his tenth grade English class. When Manny was 14, he was very much into gangs and violence. He had lived in over 20 locations before he was 16 and dropped out of school at the age of 14. One day; however, one man inspired him to push on and keep pursuing life but in a more educated and peaceful manner.
From fourth to ninth grade, Manny missed an annual 60-90 days of school. He decided to drop out of school at the age of 14 after he witnessed the murder of his best friend. He spent two years involved in gangs and drugs until one day a man changed his life. Manny was sitting on a park bench when a complete stranger sat down beside him and connected with him.
 " Just because you live in the hood, the hood doesn't have to live in you. You can become the dad you never had, and the man you never meant," he said.
Manny decided to return to school with a better attitude and a purpose to achieve greatness. Manny became and still is one of America's most inspirational speakers. He travels all around the world speaking to teenage kids about life and school.
Manny recently came to the Altoona Area High School to talk about his life and what is going on in other people's lives. A few students from the junior high got the opportunity to go to the assembly with Julie Yahner.
Among the many kids in attendancewere Hailee Denison and Destyni Davis.
"He talked about a lot of personal things. At first he kind of made it a joke, asking questions about liking Barney and Spongebob. Then he started asking about homelife and what kind of things we go through," Denison said.
While Denison remembered both the funny conversations and emotional ones, Davis focused more on the serious part of the assembly.
"He was talking about his life, things that could help us and what was going on in the hood," Davis said.
Although the assembly was serious, it was also overwhelmingly emotional.
"He started talking about murder and losing people. He talked about like getting abused and going to jail, and just things that you are going through that kind of bring up memories and make you think of how far you have come, which makes you proud of yourself," Denison said.
Although both Denison and Davis connected with Manny, it seemed to hit Davis on a personal level.
"Half the stuff he talked about happened in my past and I don't like the past, so I got very emotional," Davis said.
Scott was an outstanding inspirational speaker, but he also tried to teach the kids a lesson.
"He basically just told us not to do stupid things or to put yourself down, because it takes time to heal. So I guess I would take that because he's right," Denison said.
While Denison took that time heals everything, Davis took something that affected her a little differently.
"Don't go out there and do stupid stuff, be positive because you don't have to be negative with everything you do. Also you can do your best at whatever you do, no matter where you come from," Davis said.
Manny Scott travels around the world, inspiring young kids to do well in school. He also teaches them to forget the past, and focus on the future because the past is just that, the past.
If you ever have any interest of seeing Manny Scott, just visit his website,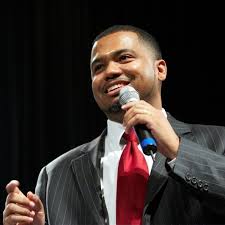 http://www.mannyscott.com/programs/schedule/.
View Comments (1)