New Unconditional album is on fire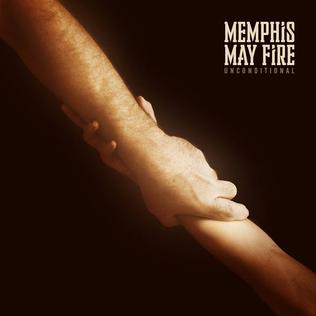 It's only the beginning of the year and there are already a lot of new albums out. Albums like The Outsiders by Eric Church, Monsters in the Closet by Mayday Parade, She Looks So Perfect (EP) by 5 Seconds of Summer, or G I R L by Pharrell. Everyone has their own taste in music but why stay with the crowd and do a review on an album written by a well-known pop artist? That's why this album review is going to stand out and is going to be about the new Memphis May Fire album titled Unconditional.
 Memphis May Fire is a metalcore band that is based out of Dallas, Texas. Kellen McGregor created the band in 2004 and he is still in the band as lead guitarist and backing vocalist for Matty Mullins. They currently have four studio albums and they are Sleepwalking, The Hollow, Challenger, and Unconditional. Unconditional hit number four in the Billboard 200 album chart.
Unconditional touches on a vast majority of things including love, bullying, sinfulness, anxiety and Christianity. The album was named Unconditional because of the unconditional love for humanity from Christ. Unconditional isn't all about religion or trying to change people's views, it's about how Matty Mullins, lead singer, can relate to the fans. He can relate to the torment of bullies, to the depression, the anxiety and just feeling lonely.
In Mullin's interview about Unconditional (link at bottom of page) he talks about his past experience with an anxiety attack and how it later led to depression but then reading a book called "Jesus Is" (written by Judah Smith) renewed both his grace and his happiness. The book is about the love of Jesus Christ. Mullins makes a lot of references about Jesus in songs like "The Answer", "Speechless", and "Need To Be".
"Beneath the Skin" is a great example of how to show Mullin's relation to his fans. The song is about bullying and the pain that it can bring to girls and how "true beauty lies beneath the skin." Many times in the song it refers to "her" but it never gives an actual name of who she is. I feel that it does this because it adds the feeling of just how many girls can relate to the feeling of depression and bullying.
 Another song that represents this relation is "Sleepless Nights." "Sleepless Nights" is about having a panic attack and all of the things that start to rush into your head. This song talks a lot about not being able breathe and feeling paralyzed. At one point it says, "Inhale! Exhale! Why is it so hard to breathe? Inhale! Exhale! Why isn't this working!" which is talking about trying to grasp yourself and your breath back when the fear starts to really sink into your heart.
Basically every lyric of every song on this album has meaning to it and that's something that I always look for in music. I think that the best song on the album is probably "Need To Be." The song is one of the softest sung songs of the album and it has a lot of reference to Jesus. It's about trying to be a better person and trying to get people to see the love and kindness of Jesus through his personality. The whole album is really about relating to the fans and offering hope to the listeners. It's about just loving the fans and trying to affect them in the most positive way and offering hope to anyone who cannot find it on their own. The new Memphis May Fire album Unconditional is truly amazing and I strongly recommend checking it out. It is available in stores and it is also available online.
Matty's interview: https://www.youtube.com/watch?v=t6k99TJHwAo
View Comments (5)