Track and field season comes to close
As the year ends so do many clubs and sports. One main sport that is ending soon is track and field. There is a large number of students at the junior high that are in track and field.
For some students it may be their first year, but for others, like the ninth graders, students will be starting their first years in high school track. Track is a very involved sport and requires a lot of dedication and attention. The track students have track practice almost everyday of the week during track season.
" It is important to note that the Altoona track and field program supports over 400 athletes in grades seven to twelve. We would not be able to compete at such a high level if it wasn't for the large number of volunteer coaches who donate their time on a daily basis during both the indoor and outdoor season," Justin Arthur said.
One of the many students involved in track is Daiquain Watson. He is a ninth grade sprinter and jumper who has been doing track since his first year at the junior high in seventh grade.
He participates in the 4×1 relay, high jump, long jump, triple jump, 100m and 200m. Watson said his favorite events would be between high jumps and 100m. This is Watson's last year as a junior high track runner and he will be joining the high school track team next year.
" Sad because it felt like it went fast, and I don't think I did my best performance," Watson said.
Watson is also going to continue track throughout high school and possibly even college.
" Yes, because it would give me a better chance to help with other sports," Watson said.
Along with Watson is Jina Mencer, also a ninth grade track member. Mencer has been in track during her entire junior high career. Mencer is in shot put, discus, javelin, 100m and 4×1. Although Mencer likes the events she did, she wishes she would've done sprinting also.  And although track is almost over, Mencer stays positive and knows there is still next year for track too. Mencer would like to try track in college as well. But, track isn't all fun and games, there's a lot of work that is put into to it too.
" For me it's worrying about PR and placing," Mencer said about what is the most challenging part of track.
Ninth graders aren't the only students that are involved in track, so are seventh and eighth graders. Two eighth grade track members are Kayley Burke and Noah Zolnak. Burke is in shot put, discus and the 200m. Her favorite event that she is in is shot put. Although Burke is already in three events, she said she would like to try pole vault. This is Burke's first year in track, but she was still able to make it to championships.
Zolnak is in the 100m, 200m, 400m and the 4×4.Unlike some, Zolnak doesn't want to try any new events, he is content with his current events. His favorite event is the 400m because it's not just being better than people; it's also a mental thing. Zolnak loves track and loves to run. Zolnak is a runner at heart and is going to continue track all throughout high school and college as well.
" Just being able to run, which is what I love," Zolnak said.
There are three teachers that are track coaches for the ninth grade. Damon Luciano, Steve Rhodes and Justin Arthur.
Luciano has been a track coach for over 20 years, and also ran track in junior high. Luciano did hurdles and also tried jumping; but when he got to high school, he didn't go out for track because after football and basketball he was tired by the springtime. Luciano has coached shot put and discus in the past, but more recently he has coached the triple jumpers, long jumpers and high jumpers. Luciano said the only thing he would've done differently is he would make up the track meets that were cancelled due to weather or try and find a way to run them.
" I think our kids will do well. We practice with the high school every day. These last couple of years our ninth graders have actually gone out, we actually run some high school meets, so they're used to running with the high school kids; when they actually go over next year, I think they'll be fine," Luciano said.
Rhodes, the girls track coach, has actually never been involved in track before coaching. He has been a track coach for 32 years. Rhodes played baseball and thought that he might someday become a baseball coach. He got into being coach when working at Roosevelt Junior High school, when the principal came to his door and said, " I need a girls' track coach and you're it." Rhodes along with the other coaches, wishes the weather would've been nicer, and they didn't have to cancel so many meets.
" I thought the work ethic of the kids went well. Our high school team was undefeated in dual meets. We had some good showings at the invitationals, and I'm really excited about some progress I saw with this years freshmen, with the ninth graders, and we're looking forward to having them on our team next year," Rhodes said.
The third track coach, Arthur, has been coaching seven years. He was also in track when he was in high school at Hollidaysburg. He was in the 800m, 1600m and the 4×800. Arthur said that it can be very challenging being a track coach, but that's why he enjoys it. He said every meet is like putting a puzzle together; you have to know how you match up against your opponent and put your athletes in the right places in order to be as successful as possible.
" The current ninth grade track and field girls have a very bright future ahead of them. There are some things that can't be coached; leadership, competitiveness, dedication and the desire to improve. This group has all of those qualities," Arthur said.
Coach Arthur also said that track is his favorite sport to coach.
" Track is my favorite sport to coach because it brings together a very diverse group of athletes. When you sit down and think about it, we need athletes that excel in a lot of different areas in order to cover the 18 different events, and compete at a very high level," Arthur said.
Districts is a track meet that occurs at the end of the track season and is for only a select number of students. There are only students from the ninth grade that attend districts. There is only 7  students going to districts this year, three boys and four girls. But for the seventh and eighth graders, there's a championship meet. This year there were 32 boys and 31 girls who attended the championship meet. 
In 1994 and 1995, the Altoona high school had won the district six championship against State college for the first time, and they have never done that before; State college had always won. That was the first time State college had ever been beaten for a championship. The championship track meet had a much larger number of students that attended.
This years ninth grade districts qualifiers are Taylor Massey, Morgan Lidwell, Mariah Edwards, Lindsay Young, Jarod Kutz, Josh Russo, and Daiquain Watson. The districts track meet is this Thursday. Go and support your fellow ninth graders who will be competing in districts this Thursday!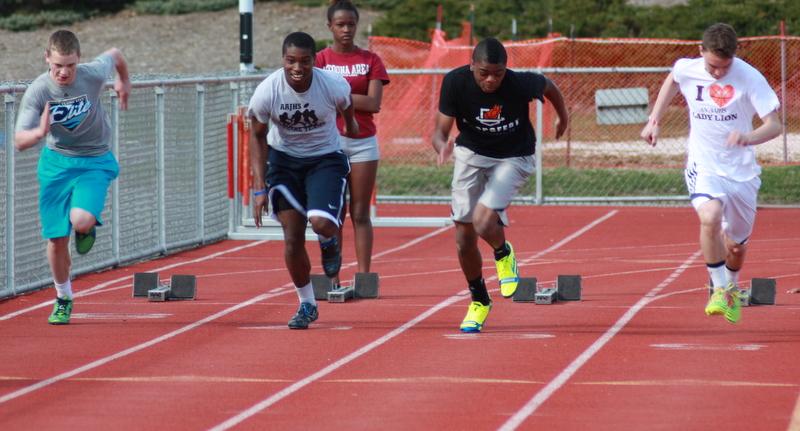 View Comments (2)