Weekly posts on the boys and girls of drama.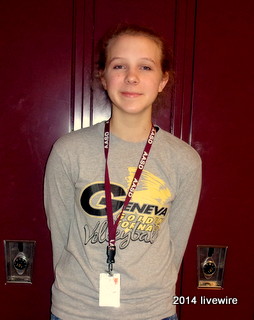 Rachel Borst is this week's drama queen of the week.
Drama and art are Borst's favorite classes.  For drama she has participated in many activities.  For instance, she has been a part of after school improvisation events and is the secretary for activities involving the club.  She also in her drama homeroom directs short films.  Outside of drama she is a part of many school organisations.  They include volleyball and National Junior. Honors Society.  Also, she helped to make the poster downstairs on the first floor that promotes drama club.
In past school productions Borst has been a part of most of them for the past three years.  In her seventh grade year she was Cinderella in Rose Red and in the ensemble for Seussical Jr.  The next year for eighth grade for Into the Woods she was also in the ensemble.  This year most recently she was Mrs. Darling in Peter Pan Jr.
Borst's favorite actor is Benedict Cumberbatch. He has played roles in movies such as War Horse, The Hobbit and Star Trek: Into Darkness.  He can play a vivid range of roles which what makes him her favorite actor.   Phantom of the Opera is her favorite play.  She loves the sound track that includes the songs Music of the Night and Point of No Return.  The Way Way Back is also her favorite movie.  Borst enjoys the scene where the main character, Duncan, gets a job at the waterpark called Water Wizz Water Park.
"  Don't be embarrassed to try drama, or something new. It helps me work on my social speaking skills and gives me a creative outlet.  You shouldn't be embarrassed by doing what you truly love," Rachel Borst said.