Drama Queens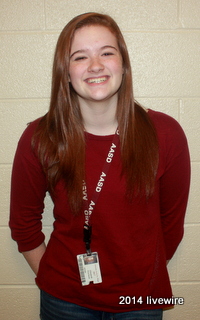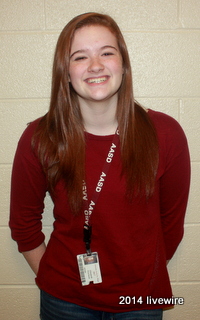 Weekly posts on the boys and girls of drama.
This week's drama queen of the week is Elizabeth Pearlman.
Pearlman has been a part of the drama department for a long time and is hopeful to continue to do so.  In the past she has done work backstage. She is also a part of the drama class elective.  In the class she enjoys playing games such as Bang and Statues.  In Statues people pose and others try to make them laugh.  This is Pearlman's favorite class.
Pearlman started at the young age of eight with her drama career.  She first participated The Princess and the Missing Gumdrop Dragon.  This year most recently she danced Peter Pan Jr.  Her strengths consist of getting into character where she finds difficulty in doing improvisation activities.  Outside of drama she is a part of the National Jr. Honors Society and chorus for the school. She is also a competitive dancer outside of the school for PBR.  This gives her a packed full schedule.
For the high school Pearlman has dipped her toes in some of their productions.  She was an usher for the performances Bone Chiller and Anything Goes.
Her favorite actress is Lea Michele for the reason that even through rough times" she came out so strong".  Pearlman loves Michele's part in Glee known as Rachel Berry.  Michele used to be a performer on Broadway too.  Pearlman's favorite production on Broadway is Wicked.  She loves Idina Menzel's character Elphaba.  Her favorite movie is Frozen.  The scene she loves the most is the part where Elsa played by Idina Menzel too sings "Let It Go".

"Don't feel embarrassed to do what you love.  Drama lets you have friends with the same interests," Elizabeth Pearlman said.
Leave a Comment