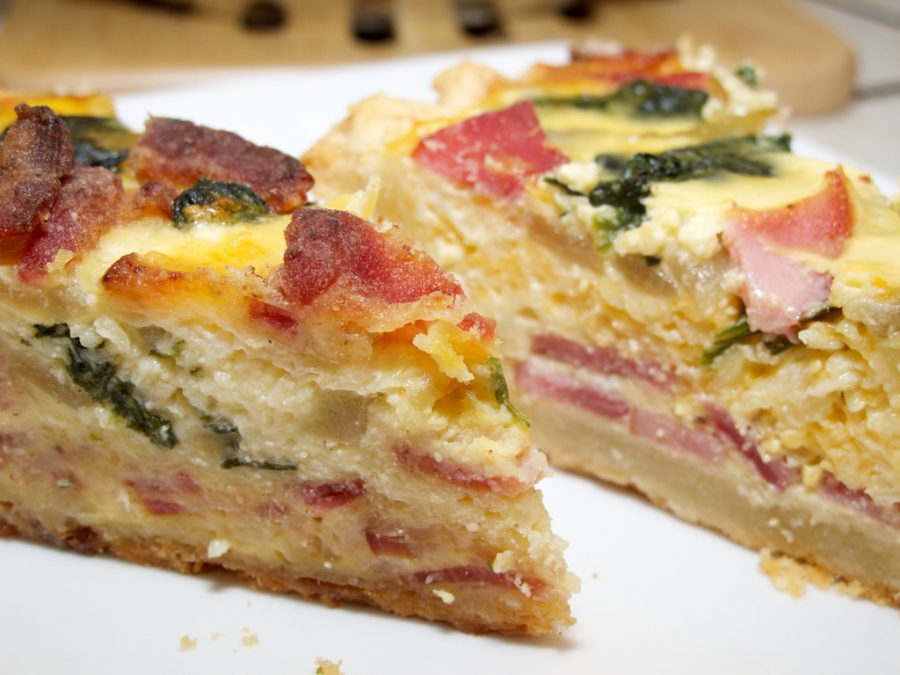 Cooking with Facts
~a blog for those who want the info., the ingredients, and an ideal run-down~ This week: ham and cheese quiche
February 10, 2017
Simple recipes are hard to come by due to the unprovable fact (more like opinion) that most, if not all chefs wish to prove their mastery by displaying some of their truly excellent and show-stopping techniques, of which they demonstrate best by the recipes they produce.
That is a mouthful to take in, of course, but today's recipe is simpler in comparison to the multiple others you can find labeled 'easy'.
Not only are the directions straight-forward enough so that even beginning chefs can take their hands at it, but also the recipe itself is composed of ingredients that many have in their households- and if not, the elements to this meal are quite cheap nowadays anyways.
Originating from Germany and yet being more recognizable as a French dish; quiche is a recipe of many cultures and flavors, resulting in a beneficial addition to anyone's cookbook or collection.
Found at this site: http://www.whattheforkfoodblog.com/2015/08/13/ham-and-cheese-quiche/, this effortless mix of ham, cheese and eggs is perfect for breakfast, lunch, or dinner. The taste is unique in the most fascinating of ways (which means it was quite good, if not a little weird for an untrained palate), and it bakes into perfection as long as it's properly watched. I recommend adding a bit- about a tablespoon- of whipping cream, however, to your eggs before whipping them to give the overall creamy flavor a bit of 'umph'. Otherwise, this quiche was easy as quiche to make… that very much doesn't work, but maybe it could be a new 2017 trend.. 'easy as quiche.'
Don't forget to enjoy.
Recipe- Ham and Cheese Quiche(keesh):
Ingredients
1 9-inch gluten free pie crust, par baked*

1 C Cure 81 ham, diced

4 slices bacon, cooked and crumbled

1 1/2 C cheddar cheese, shredded

1 Tbsp gluten free all purpose flour (or regular)

3 eggs

1 1/2 C milk

1/8 tsp fresh ground black pepper
Instructions
Preheat oven to 350 degrees.

Add the diced ham and bacon to the par-baked pie crust, spreading evenly across the bottom.

In a small bowl, toss together the cheese and flour so the cheese is coated and sprinkle over the meat in the pie crust.

In a large measuring cup, whisk together the eggs, milk and pepper. Pour over the meat/cheese and bake at 350 degrees for 40-55 minutes. When done, the middle will still be slightly jiggly, which is ok. It will set up as it sits. Let the quiche sit for at least 15 minutes before slicing and serving.