Betsy DeVos wants to dismantle public education
"I have not intentionally visited schools that are underperforming."
March 16, 2018
As a part of the incoming Trump Administration, Betsy DeVos has been the Secretary of Education since February 2017. After a year of working as the Secretary of Education, DeVos has proven she's a narrow-minded woman whose only priorities are to eradicate public education and give as much money as possible to private schools.
DeVos is a supporter of school vouchers, where a family can choose a private school but have the government pay for it. Just this Sunday night, DeVos was on 60 Minutes, but she did not do well answering questions. She couldn't answer questions about sexual assault statistics on college campuses, she didn't know if Michigan (her home state) was doing better by having school vouchers and she couldn't seem to answer even basic questions about education in America. It's revealing that she wasn't ready for an interview like this, especially because interviews with 60 Minutes are usually intense and well-publicized; however, it's shocking that she wasn't knowledgeable about critical issues in education, including policies that she supports, such as the impact of school vouchers in her own state.
DeVos plans to take money away from public schools and give that money to charter schools. DeVos believes giving money to private schools will improve public schools because that will make public schools more competitive by hiring better teachers; however, too many great public teachers are already teaching with very low pay, therefore taking money away is only going to hurt public school teachers and public school students.
DeVos is a privileged millionaire who has never attended a public school throughout her entire life. She went to private K-12 schools, a private religious high school and a private religious college as well. DeVos even put her children through private schools, therefore DeVos has no personal experience or understanding of public schools in America. So why is she the Secretary of Education?
Most AAJHS students have seven years or more experience with public education than our Secretary of Education. Some of us spent one to two years in public pre-school, one year in Kindergarten, six years in elementary, and now one to three years in junior high. Even as teenagers, we have more experience, first hand knowledge, and involvement with public schooling than DeVos does or likely ever will. Yes, students don't know how to manage a trillion dollar program or have an education degree, but neither does DeVos.
It isn't just the lack of public school experience. DeVos has no experience working in any school environment and doesn't even have an education degree. She also has no experience in running a bank or a similar institution or managing a trillion dollar program, which is what she does now as Secretary of Education.
My generation depends on this woman and her department to provide and establish policies that will benefit America's public schools, helping American students achieve a better education. Yet DeVos doesn't seem to care about the students in public schools; she seems focused on sabotaging the public education.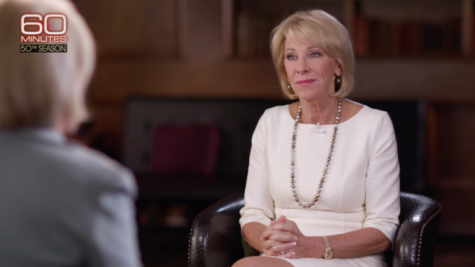 The reason why DeVos wants to give more money to these charter schools is clear–she only wants to help the people similar to herself–rich and privileged. Education for everyone is critical, not just for those privileged enough to attend a private school. No matter how wealthy a person may be, we all deserve the same chance at education with a sufficient amount of funding provided.
America needs someone who matches what the Secretary of Education should be. Even the simple qualifications, such as managing a large program, working in a school environment, or I don't know, maybe supporting the very system you're the head of–I don't think that's too much to ask. Education is a basic human right, meaning everyone should be able to receive the free education he or she rightfully deserves, and we need someone who supports this right as the Secretary of Education.