Healthy Recipes for Students on the go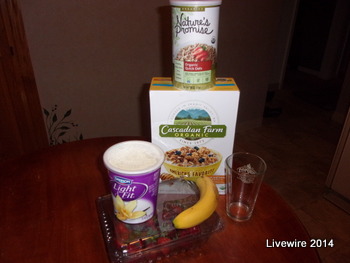 Are the students starving fourth or fifth period waiting for lunch to finally rule around the corner? Do they regret just eating that granola bar or even nothing at all?
Personally, I can't stand my stomach growling during a test or even just sitting in a random lecture. One loud growl can cause the whole class to burst into laughter. Of course the student would just play it off like the cool cat that they are, but it's still pretty embarrassing. This yogurt parfait is not only organic, but it's filling to make anyone's stomach full the entire morning. It's easier to focus on school when the student is not hungry! Everyone varies on how much they need to eat for breakfast, so the student might use a little more or a little less ingredients than I show you in this blog. I wouldn't want the student to burst if they ate too much.
This breakfast idea only takes about five to ten minutes. Probably only five minutes for everyone at school, but I'm extremely slow and lazy in the morning. Maybe lazy all the time? Anyway, I like to make mine at night for this reason, using aluminum foil on top and placing it in the fridge. Using plastic cups and spoons can make the students breakfast portable, so they can eat it driving or walking to school. Also, use whatever fruits the student would like on the parfait. I love bananas, strawberries, blueberries, blackberries, and raspberries on mine!
Ingredients:
1 ripe banana
5 strawberries
1 cup of yogurt (I used light vanilla)
granola (I used organic)
oats (optional but so good)
Directions:
First, place the cup on the table and place in two to four spoonfuls of yogurt inside. Next, place granola on top. I used about a half of a hand full. Then, repeat this step using granola or oats. Fourth, place about two spoonfuls of yogurt in the cup. Now, start slicing your banana into skinny slices. Place about half of the banana slices in the cup. Then, slice one strawberry into eight slices and place inside. Now, slice about one half of your remaining banana and put it inside. Enjoy the rest of the banana that the student didn't use. Finally, cut the leaves off four strawberries and place them on the top of their creation.
Leave a Comment