Dancing divas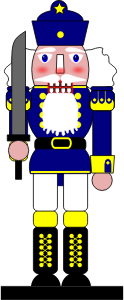 by Mikayla Billotte
Although dance is not a school "sport," it is still a sport for a  lot of people. Many people spend hours upon hours practicing for competitions and recitals.
 Multiple local dance schools will be performing a holiday classic The Nutcracker, next month.
 The Nutcracker is a holiday classic that starts out with a wealthy and proper family having a party. All the children get gifts and the parents dance and have fun. One of the main roles is Clara. Clara is the daughter of the wealthy family, and she is given a Nutcracker. When she falls asleep she has a dream of mice and the Nutcracker fighting. Also, dolls and soldiers dancing and much more. Then she goes on a journey in the Snow Scene with the prince, there they are met with dancing snowflakes.  Next, Clara enters the "Land of sweets" with many other dances. She soon wakes up from her dream with her Nutcracker.
 Seventh Grader, Mia Zlupok said,  "I dance at Allegheny Ballet Company and take about twenty classes a week.Because  of the Nutcracker I have about five to eight extra hours of rehearsing every week."
 "I'm a Party girl, Snowflake, Spanish, Reed pipes and Flowers," Zlupko said.
 "Our Nutcracker will be performed at The Mishler Theatre on Dec. 14, 15 and 16 I'm so excited," Zlupko said.
Leave a Comment