Beauty Blogger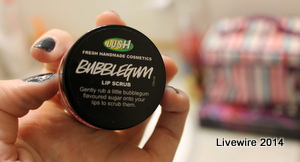 This week's product is: Bubblegum Lip Scrub from Lush
I absolutely love this lip scrub. I love it even more because it is made by Lush. Lush is a cosmetic company that hand-makes all of their products. Lush makes bath bombs, lotions, hair masks, face masks and the list goes on. You name it, they make it. All of their products are made with fresh ingredients. They aren't lying either, all products have an expiration date. Lush also does not test on animals.
The lip scrubs have many flavors. I have only had the Bubblegum flavor. I have actually purchased this product twice now. I like to use it if I am putting on any lipsticks so my lips don't look dry and cracked. It also is nice for chapped lips because it gets rid of the dry skin.
The application is probably the easiest thing to do in the world.
1. Wet your lips
2. Apply a small amount to your lips
3. Exfoliate
4. Lick it off
Yes, I said lick it off. The scrub is made from sugar! It is completely edible. It even tastes exactly like bubblegum!
I suggest you all buy this for the winter months. I also recommend checking out their website for other products. The store locations are pretty far from Altoona,PA so you will have to order online.
Leave a Comment