Keep on rocking me baby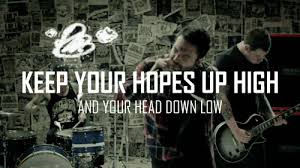 All I want by A Day To Remember
All I want is a place to call my own
To mend the hearts of everyone who feels alone
Whoa, you know to keep your hopes up high
And your head down low
Keep your hopes up high and your head down low
The song of the week is one that will give a home sweet home feeling.  A Day To Remember is from Ocala, Florida.  They were founded in 2003 by  their guitarist, Tom Denney and their drummer, Bobby Scruggs.
The band has come a long way but in their first tour they played over 200 shows, and they created a name for themselves.  Their songs always have had a deeper meaning.  "All I want" is about keeping your hopes on the right path, meaning have hope is what you do and know that people will always knock  you down but you have to keep your hope.
Also,  they're saying that  they want to help when you're feeling down.  It's a great upbeat song that you can rock out to.  If you have a good song like this then you will definitely have a good day.  All of their music is rock 'n roll but they are a good band for everyone.
ADTR has lost a lot of members.  There are five members and three have been replaced.  The band has changed through the years, but their music is what hold them together now.  They use their talent very well and their music will go down in history.
Leave a Comment