Healthy Recipes for Students on the Go!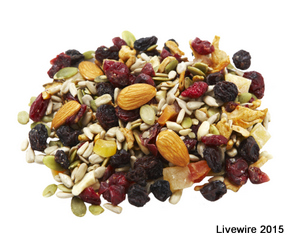 Lately, I have been getting bored of eating a simple apple or maybe a few crackers for a light snack after school. Why not make something creative, or something that will explode goodness in anyone's mouth? So, with that I decided to make a "Healthy Trail Mix!"
Ingredients:
1/4 cup whole shelled almonds
1/4 cup unsalted dry-roasted peanuts
1/4 cup dried cranberries
1/4 cup chopped pitted dates
2 ounce dried bananas, or other dried fruit
Directions: Add all the ingredients above into any size bowl. Makes 5 servings. Perfect for a family appetizer or snack. Enjoy!
Leave a Comment