Athlete of the week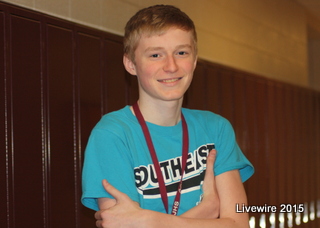 Phillip Swartz was asked several questions about his exciting season as a ninth grade boys' volleyball player.
Q: What sports do you play?
A: " I play volleyball," Phillip Swartz said.
Q: When did you becoming interested in sports?
A: " Third grade. I always enjoyed watching my brother and dad get pumped for games so it made me become interested," Swartz said.
Q: How many days a week do you practice? What are the times?
A: " I have practice everyday after school from 3 to 5:30," Swartz said.
Q: What is your favorite thing about volleyball?
A: " Team bonding. I get to play the sport that I love with the people that I love," Swartz said.
Q: Where do you place sports in their importance in your life?
A: " Sports are very important to me but overall friends and families top sports," Swartz said.
Q: Do you have any advice for future volleyball players?
A: " Stay positive and play hard. Always listen to the coaches they know what's best for you," Swartz said.
Q: Where is your favorite place to stop while on away games?
A: " I love going to Sheetz  because there is a variety of things to get. I might want something at one away game and crave something else at another and Sheetz will have it," Swartz said.
Leave a Comment