Best Pizza Places in Altoona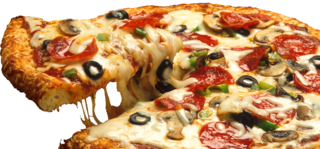 Picture it is a Friday night, it is around 7 o'clock, and some friends knock on the door.They come inside and everyone is beginning to have a fun time. It is just a typical Friday evening, but mom is not home to make anything to eat. Too many things are going on for a meal to be made so the decision is to get something delivered. By a raise of hands everyone votes pizza. The hardest decision is now at hand. What type of pizza and from where will be the best?
In Altoona there are so many places that sell pizza. The main pizza chains are the best pizza in town. Yes, there are good local places such as Original Italian Pizza (OIP), but I prefer chains. Ordering pizza from main chains guarantees perfection.
The number one chain in Altoona is Dominos. The pizza is always cooked to please. They provide just about any combination of toppings. Dominoes has recently changed their name to just Dominos, not Domino's Pizza. They change the name, because the company now sells delicious sandwiches and amazing chicken wings. They also have chicken, pasta and of course bread sticks. Dominos has deserts on their menu too. Lava Cake is everyone's favorite. Lava Cake is a chocolate overload. It is a chocolate lover's heaven.
Papa John's is the second best pizza chain in town. The garlic sauce that comes with the pizza brings it all together.The crust also is awesome; their dough tastes like no other. All three of these places have other things besides pizza. They also have a heart shaped pizza.The fact the pizza is in a heart shape is adorable, but it also tastes super good. It is crunchy from the thin crust and the rest tastes just like a good Papa John's pizza. Papa John's also has a cookie pizza. Anyone with a sweet tooth will fall in love with this giant cookie
Pizza Hut has hands down the best pan pizza therefore making it the third best pizza chain. It has the just right amount of grease and the perfect crunch. It is hard to master a good pan pizza and Pizza Hut has mastered it. Pizza Hut has deserts too. The best item on the dessert menu is the chocolate bread sticks. Breads sticks are drenched in Hershey's chocolate and topped with chocolate chips.
The biggest reason why chains are the best for buying pizza is the apps. It is so easy to order with an app. The apps remember your address and even your favorite orders. Ordering pizza can be at the push of a finger.
To check out these top three chain pizza places and their apps head to theses websites:
Dominos – http://www.dominos.com.au/
Papa Johns – http://www.papajohns.com/index.html
Pizza Hut – https://order.pizzahut.com/home
View Comments (6)