Pintertainment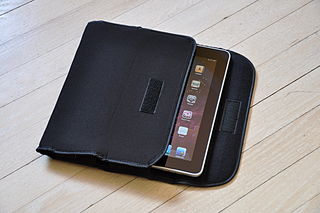 The DIY of the week is an ipad sleeve. Many people spend around $30, if lucky, for a sleeve, and or case, for any type of device. These can be made pretty easily and the money saved will be impressive. (The word ipad will be used here, but replace it with whatever device the sleeve is being made for.)
Supplies needed:
self-adhesive cork (a regular cork roll will also work)
old shirt or fabric
pen/marker
a pair of scissors
threading needle & thread (embroidery floss, or a hot glue gun could also work)
2 buttons
yarn
The first part of this project is to cut the cork board to size. Place the ipad in the middle of the cork board. Use the marker or pen listed in the supplies list above to trace the outside of the device. Do this two times, one for each side of the case.
Now, take the scissors and cut about two inches bigger than the original marks. This leaves extra space for when the two pieces will be put together. When cutting the cork board, also cut an extra piece for a flap, to keep the two sides together and still access the inside. This should cut like a triangle.
The next step is to peel off the self-adhesive sticker. Lay the fabric on top so it will stick together. Smooth out the fabric and cut all the extra pieces off. Keep cutting till the fabric and the cork meet.
Now, sew the first button to the triangle piece cork board. The button can be sewn on, or hot glued on. The other button should be sewn or glued to one side of either of the two cork board pieces previously cut.
With the fabric part facing up, stack the two pieces of cut cork board on top of each other. Go around the outside of the two pieces when lined up and use embroidery floss, string, or super glue to get the pieces to stay together. Three of the four sides should be closed.
The triangle flap part should now be put onto one piece of cork board on the open side.
Last, the yarn should be knotted together. This will keep the two buttons together.
Enjoy the new, funky ipad case! Bring it around on trips without worrying that it will become cracked, or damaged!
View Comments (1)