Healthy recipes for students on the go!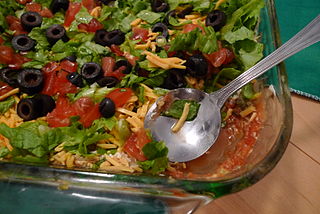 In just a couple of weeks, students will be enjoying the summer sun. Pool parties and dinners are quickly approaching. Appetizers are a big hit. Try this taco dip to serve 20-25 people. Eat alone or serve with tortilla chips. This recipe is quick and easy and simple to do on the go. Check out www.food.com for more recipes like this one.
Ingredients:
1 regular container of light sour cream
2 cans of refried beans
1 package of taco cheese
1 package of taco seasoning of choice
Lettuce
Chop Tomatoes
Directions:
Mix the seasoning and sour cream in a medium size bowl. Layer the ingredients into a cake dish. Add the beans, sour cream, cheese, lettuce, and tomatoes in this order. Let the dip chill for 30 minutes. Enjoy!
View Comments (3)