Athlete of the week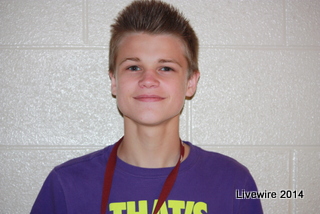 Josh Long was asked several questions about his time being a soccer player. Josh not only plays for the school's team, but he plays for several other teams. Josh is a very talented athlete and has a great future ahead of him.
Q: What sports do you play?
A: " I play soccer," Josh Long said.
Q: What got you interested in soccer?
A: " When I was about three years old, I saw my sister play AYSO soccer then the ball went out towards me and I kicked it and liked the sport since," Long said.
Q: Do you play on any other teams other than the school's team?
A: " I play on a club team and an indoor team that plays in Maryland during the winter," Long said.
Q: What is your dream college and why?
A: " My dream college is Liberty University in Lynchburg Virginia because it's where my sister goes and their soccer program is really good there," Long said.
Q: What are your goals for the future?
A: " My goals are to graduate from college with a degree in engineering and mechanics," Long said.
Q: Who has been your inspiration for soccer and why?
A: " My inspiration for soccer is my dad because he's been my coach for every team I've played on and pushes me to do my best," Long said.
Q: If you could be a celebrity, who would you be?
A: " If I could be a celebrity I would be Lionel Messi because he gets paid to play soccer and travel. He is also very rich and famous," Long said.
View Comments (3)